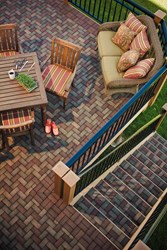 Scranton, PA (PRWEB) November 29, 2013
AZEK Pavers, a hardscape solution for backyard patios, decks, driveways, walkways and rooftops, was named a Greenbuild Top 50 Product by Hanley Wood's Green Products Guide at Greenbuild 2013 in Philadelphia, PA, which was held Nov. 21 – 23, 2013. Hanley-Wood publishes Eco-Structure, Eco-Home and several building and consumer home industry publications.
Known for their fast and easy installation, AZEK Pavers are shown being installed in this 30-second, time elapsed video taken from an aerial view of a driveway project designed by III AD, a green building design firm based in Minneapolis, MN, and a member of the US Green Building Council. http://youtu.be/KWFJecmQvxs
AZEK Pavers, from CPG Building Products, a world leader in manufacturing premium, low-maintenance building products, recently reached the milestone of diverting 1 million scrap tires from landfills. Made with up to 95% recycled content, AZEK Pavers' manufacturing is directly responsible for keeping more 15 million pounds of scrap rubber and plastics out of U.S. landfills by utilizing recycled material from scrap tires and more than 27 million plastic food containers and plastic dvd cases.
AZEK Pavers are manufactured in three profiles: Standard Landscape, Permeable and Resurfacing Pavers in five colors. They are stain-, impact- and scratch-resistant and save on installation time and labor compared to traditional concrete and brick pavers. Fitting into an innovative grid system and at less than half the weight of traditional pavers, AZEK Pavers install up to three times faster than other pavers, with no special tools or masonry wet saws required. http://youtu.be/KWFJecmQvxs
Available through a national distribution network, AZEK Pavers are poised to redefine the hardscape category while helping to meaningfully reduce landfill waste. Learn more at http://www.azek.com.
About AZEK Building Products:
Part of CPG Building Products, the AZEK brand capitalizes on more than 25 years of cellular pvc manufacturing experience to make and market premium, low maintenance exterior building products such as AZEK Deck, the leading brand of low-maintenance decking, and AZEK Trim, the leading brand of low-maintenance trim. Other AZEK products include AZEK Mouldings, AZEK Porch, AZEK Rail, and AZEK Pavers. All of these products offer tangible benefits as ideal replacements for traditional building materials. For more information, call 1-877-ASK-AZEK (877-275-2935) or visit the AZEK website at http://www.azek.com. Follow AZEK on Facebook ( /azekbuildingproducts) and Twitter (@AZEKProducts).