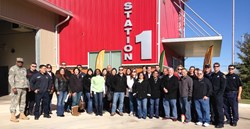 San Antonio, Texas (PRWEB) November 28, 2013
As a way of saying thanks to Fire and Police officers who give up their Thanksgiving in order to protect and serve, Generations Federal Credit Union donated a fresh turkey to every Fire Station and a pre-cooked ham to every Police Station in San Antonio on Wednesday, November 27.
Fire Station #1 served as the volunteer hub as Generations FCU volunteers and dignitaries from the Fire Department sorted and distributed the turkeys to the 51 Fire Stations, the SAFD Command Center and the seven SAPD substations across the community. Several members of the military were also on hand to assist with loading the turkeys into volunteer vehicles.
"Many people don't realize that Firemen and Policemen have to give up holidays with their families in order to keep our families safe," said Steve Schipull, president and CEO of Generations FCU. "We wanted to take this opportunity to thank them for everything they do, day in and day out, for our community. It's a sacrifice and we want to acknowledge that."
Approximately half of all Fire Stations in San Antonio host trainees from Lackland AFB for Operation Home Cooking. The program, currently in its 38th year, places soldiers, sailors and airmen from area military bases with local volunteer families on Thanksgiving Day.
"Generations was founded by a group of Fire, Police and City Employees in 1940. While we serve everyone in San Antonio, this is a great opportunity for us to reach out to our original members and let them know we are supporting them every step of the way," said Schipull.