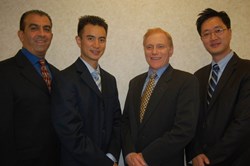 New York, NY (PRWEB) December 02, 2013
Herald Square Dental is pleased to offer a special promotion on CT scan until Dec. 31st, 2013. For this limited time, both new and existing patients can get a CT scan for only $149, which is regularly $250.
CT scan is becoming a standard of modern dental care and is absolutely needed when treatment with dental implants is considered. The scan offers dentists a superior three-dimensional image of the patient's mouth, which can then be examined from every angle to see where nerves and sinuses are to plan for precise implant placement. This imagery better prepares the dentist for the treatment stage and can help prevent complications. CT scan ultimately improves the success rate of implant treatment while saving time and stress.
Herald Square Dental will go through every step of the process with patients to best prepare them for any dental treatment. Patients can also go through common questions and technical information on dental implants on the their website here.
Call Herald Square Dental today at 212-689-0024 to schedule an appointment. Patients can now afford to have a dental CT scan to find out if they are a candidate for dental implants for the special price of $149. This promotion is valid for both new and existing patients until 12/31/13 with this press release.
About the company:
Herald Square Dental and The Denture Center is a full-service dental office offering everything from porcelain veneers and orthodontic care, including Invisalign, to implants that replace missing teeth entirely. They are also well known for quality dentures custom fabricated right on the premises. Conveniently located in Herald Square in the heart of New York City, Herald Square Dental and The Denture Center has been known as New York's place for quality cosmetic dental care and same-day dentures since 1977. They are equipped with all the technology and comfort to optimally restore beautiful smiles successfully, affordably, quickly and conveniently. Dr. Pasch, Dr. Yam, Dr. Shirzadnia, Dr. Song and their friendly staff are highly trained in fixing chipped, cracked or stained teeth with lovely new veneers. At Herald Square Dental and The Denture Center, they offer a wide range of affordable dental makeover options, including natural-looking porcelain crowns, tooth bonding and tooth-colored composite fillings.