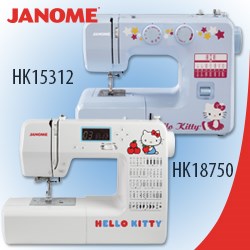 For the Hello Kitty line, we chose some of our most popular and easy to use regular sewing machines and incorporated Hello Kitty graphics.
Mahwah, NJ (PRWEB) November 28, 2013
As the holiday season enters full swing, many kids (as welly as many kids at heart) are hoping to see a familiar face under the tree this year: Hello Kitty. The popularity of this global icon of cuteness continues to climb – a theme park will open in China next year, she has more Facebook "likes" than Mickey Mouse, and even has her own Jet with regular flights from LAX to Taipei. And to further prove that anything can be made cuter with this popular feline, many craft and sewing hobbyists are hoping for a Janome Hello Kitty Sewing machine this year.
The Janome Sewing Machine company first introduced a Hello Kitty sewing machine a decade ago, and have seen amazing interest in models featuring her ever since. Based on this popularity, Janome now offers six Hello Kitty models, across a range of features and prices. "For the Hello Kitty line, we chose some of our most popular and easy to use regular sewing machines, and incorporated the Hello Kitty graphics. They were very fun to design, and we get a great reaction to them from our customers," says Randy Thomas, VP of Sales and Marketing for Janome America, Inc.
These are definitely not toy machines, and Thomas says that this is one aspect that always pleasantly surprises customers. "We know that our customers pay close attention to machine quality, especially when purchasing a machine for a new sewist, and it is important to our company as well. The fact that these machines contain the quality and ease of use of our standard models means that beginners will have an easier time learning, and are more inclined to continue their enthusiasm for the hobby."
The line includes the HK15312, a mechanical machine which includes 12 stitches and a free arm for sewing cuffs. The most advanced model, the Hello Kitty 18750 is a computerized machine with 50 stitches, 3 one-step buttonholes, and many more state of the art features.
"Our sales through the past few holiday seasons have been very strong, and we are expecting even better sales this year," says Thomas. "Hello Kitty really is an icon, and it continues to amaze us how much our customers love these machines. Many of our long-time customers purchase these machines for their children or grandchildren, and then one for themselves as well!"