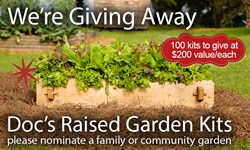 Atlanta, GA (PRWEB) November 29, 2013
Super-Sod is giving back to the communities that support them. They have 5 farms and 11 outlets in Georgia, North Carolina, and South Carolina and so are giving away 100 of their Doc's Raised Garden Kits in those states.
They're asking communities to help them give away the 100 Doc's Raised Garden Kits by nominating community gardens and families in need. Their hope is that these kits will be a part of providing nutritious food to families who might not have access otherwise. Super-Sod is a horticultural enterprise that employs expert gardeners - many who go home to continue gardening. It's a company of gardeners who know that growing one's own food is rewarding.
Each individual may nominate one family or community garden (in GA, NC, or SC - Super-Sod's home states) to receive a Doc's Raised Garden Kit. Each Doc's Kit is valued at $200 each, plus organic seeds will be included for this give-away.
One Doc's Raised Garden Kit is composed of:

1 wood bed made of rot-resistant wood that's fastened with handsome mortise and tenon joints (no tools required for assembly);
17 bags of Soil3 organic humus compost to fill the bed;
And for this give-away, 4 packs of organic winter vegetable seeds from Sow True Seeds.
The company has created an app on their Soil3 Facebook page and Soil3 website where you can submit your nomination. Please visit either of these two sites to nominate:

Super-Sod is a family-run business that employs experts in turf and horticulture. One of their most popular products has been their Soil3 organic compost which they make partially from composted grass clippings from their sod production. They continue to develop new products, foster gardening and landscaping, and always seek to improve their knowledge, farming practices, technology, and environmental stewardship.