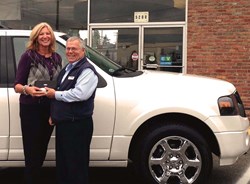 'I won a truck? I thought, 'this is such a scam!''
Ketchikan, Alaska (PRWEB) December 04, 2013
Waterfall Group, the leader in all-inclusive sport fishing resort management today announced its grand prize raffle winner from the 2013 $100,000 King of Kings Salmon Tournament.
"The entire crew at Waterfall Resort congratulates our grand prize raffle winner, Shirley Ayres of Snohomish, WA! Awarding this years' prize was one of the more entertaining events in our 25 years of holding the contest," said Steve Cockrell General Manger at Waterfall Resort.
"They called AND emailed a few times before I responded. I was sure it was a scam. I said, 'Really? And does the Ford truck come with a famous bridge in New York?'" chuckled Mrs. Ayres. "We were thrilled with the resort, the fishing and the staff. Then a truck too? Talk about pulling in the big one!"
Winning the truck was the second part of a successful trip. The couple caught the fishing trip during a silent auction benefiting Providence Hospital in Everett, WA. "My husband gave up bidding when things got crazy. I was enamored and kept going back over and over and Voila! A trip to Alaska!"
In addition to acquiring the Ford and all-inclusive trip, Shirley was crowned "King of the Day" for catching the largest king salmon on day two of her trip.
"The winning trilogy for this couple is pretty amusing. We had a blast announcing their win," said Cockrell. "The tournament is a guest favorite – many come back year after year - but those who award the prizes have the best time, this year the best yet!"
The King of Kings annual tournament awards daily, weekly, monthly and raffle prizes that include merchandise, cruises, gift certificates and fishing trips to anglers that pull the largest wild king salmon from the waters around Waterfall Resort. The tournament costs $75 and is open to all registered guests.
-- Waterfall Group is the leader in all-inclusive Alaskan fishing resort management. Founded in 1982, Waterfall Group properties are known for their unique destinations, warm customer service, expert marine crew and close proximity to the best fishing in Alaska. Welcoming more than 60,000 guests at its historic and luxury properties, Waterfall Group boasts an impressive guest return rate that includes multiple generations. http://www.WaterfallResort.com and http://www.SteamboatBay.com.