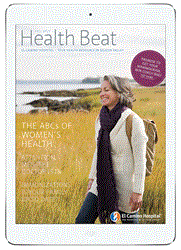 El Camino Hospital is constantly looking for new and engaging ways to share stories about our organization, including our innovative, state-of-the art technology. - Kelsey Martinez, Marketing Manager, El Camino Hospital
Walnut Creek, CA (PRWEB) November 29, 2013
El Camino Hospital (ELCH) today announced that it has launched the Health Beat Advanced Magazine Tablet Application (app) for iPad, Droid and Kindle platforms in partnership with Diablo Custom Publishing (DCP). The Advanced Magazine Tablet Application is available for free through Apple's iTunes store, Google Marketplace and the Amazon App Store. The app enables El Camino Hospital to share health information and hospital services and its offerings with high-value consumers who prefer to receive health information on their tablet.
DCP currently publishes a three-times-per-year community publication, El Camino Hospital's Health Beat and now has produced El Camino Hospital's tablet app as a companion to the print magazine. Editorial content for the app is optimized for tablet viewing through enhanced app features, including interactive content overlays, maps and slide shows.
Readers can access the El Camino Health Beat App via their tablet to discover tips on healthy living from El Camino Hospital's renowned medical staff, and read about the latest medical advances, wellness advice, and hospital services. Other app highlights include expanded healthy recipes from the hospital's award-winning master chef, an interactive quiz that helps raise awareness about breast cancer, in conjunction with a promotional giveaway and an integrated sign-up for the HealthPerks free membership program.
Contents include:

The Doctor Recommends: Prostate Docs, insights on cancer treatments, sexuality and more.
Immunizations: Understanding kids' immunizations and ELCH's funding for school nurses.
Cooking With Chef Jacques: Fun family meals, recipes and farmers' market information.
Feature: Women's Health, maternity, cardiovascular health, breast health.
Cool Tools: Family medical officer app.
Foundation Update: Flexing the power of women's giving; and more.
El Camino's Tablet app offers custom buttons that provide readers with additional content as well as embedded videos, and the ability to easily connect with the hospital's social media channels. Select pages contain photo galleries that can be controlled by the reader, and all pages give the reader the ability to tap the screen to see the navigation toolbar.
"The development of this Advanced Tablet App is a milestone moment for us," states Kelsey Martinez, Marketing Manager for El Camino Hospital. "El Camino Hospital is constantly looking for new and engaging ways to share stories about our organization, including our innovative, state-of-the art technology, as well as tips on healthy living and wellness. Our Tablet App provides a fresh way to share Health Beat's content through an engaging and interactive platform that extends our audience's reach to new levels."
About Diablo Custom Publishing
Diablo Custom Publishing, the Bay Area's leading custom publisher, provides complete print, online and mobile custom publishing services to a diverse group of clients, including El Camino Hospital, Oakland Museum of California, Chevron, University of California Hastings College of the Law, the Oakland Athletics and the San Francisco Giants. With 32 years of experience and an award-winning creative team, DCP develops integrated marketing solutions that help companies communicate brand value, deepen customer loyalty and increase revenue. For more information, visit dcpubs.com.