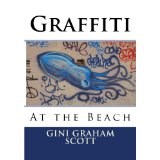 Graffiti as an art form is like an anthropological journal that can tell us a lot about society today.
San Francisco, California (PRWEB) November 28, 2013
As graffiti artists are claiming even more territory from walls to trucks and benches, while cities and business people decry their work, book author and indie filmmaker Gini Graham Scott has created a series of books and photo videos to celebrate the artists' often ephemeral canvases. She has also become fascinated with seeing their work as an anthropological journal featuring their major interests and themes.
For example, much graffiti is in the form of a name, logo, or identifying symbol announcing that the graffiti artist was there. Sometimes there is an amusing commentary, such as a cartoon of a dead cat, which might be a symbol of the artist or a comment about the death of cats due to modern day conditions. In other cases, the artist is expressing anger or frustration through complaints about a named individual or company. At tines the artist is expressing tabooed ideas or words, such as "Eat p***y!," or showing a stylized vision of a real or mythical creature, such as an octopus from the sea or a ship captain chugging along in an tugboat.
Currently, there are five books in the series, Graffiti: At the Beach, Graffiti: At the Beach 2 and so on to Graffiti: At the Beach 5. And now Graffiti: At the Beach 6 is in production.
The books were inspired by the photo videos of the same name which show a series of 25 to 35 photos against a backdrop of clouds, falling leaves, changing colors, and screens in an auditorium set to music. The series likewise starts with Graffiti:At the Beach and ends with Graffiti: At the Beach 5.
Gini Graham Scott has also recently launched a crowdfunding campaign for a new film the Suicide Party. The Suicide Party campaign site is http://www.indiegogo.com/projects/suicide-party.
Gini Graham Scott is the founder of Changemakers Publishing and Writing
http://www.changemakerspublishingandwriting.com and the author of over 50 published books with major companies and 30 books published by her own company Changemakers Publishing. She also writes books and scripts for clients. She has spoken about the topics of her books to many groups and the media, including appearances on Good Morning America, Oprah, and CNN. She received a PhD in Sociology from the University of California in Berkeley, a JD from the University of San Francisco Law School, and MAs in Anthropology, Mass Communications and Organizational/Consumer/Audience Behavior and Popular Culture and Lifestyles, and a MS in Recreation and Tourism at California State University, East Bay. She is pursuing an additional MA there in Communications.