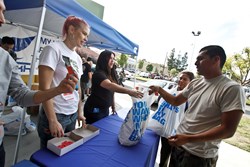 Ontario, Calif. (PRWEB) November 27, 2013
Local shoe retailer Shiekh Shoes successfully donated 250 turkey dinners and fixings to area families in San Bernardino and Compton on Tuesday, Nov. 26, during the second annual Shiekh Shoes Thanksgiving Giveback.
More than 200 families visited Shiekh Shoes on East Highland Avenue in San Bernardino to pick up turkey dinners and enter raffles for prizes from Shiekh Shoes, KQIE 104.7 and Reebok. Some 120 families preselected trough entries to Q 104.7 received a frozen turkey, side dishes and rolls and a pumpkin pie. Thirty additional dinners, along with shoes headphones from Reebok and Q 104.7 gear, were raffled off to additional participants.
Nearly 100 preselected families of students from Roosevelt Elementary School, the second largest elementary school in the Compton Unified School District, arrived at the Shiekh Shoes Community Center in Compton to pick up their Thanksgiving meals and giveaways from Shiekh Shoes and Flex Watches. Shiekh Ellahi, founder of Shiekh Shoes, and his family were in attendance, along with Compton Mayor Aja Brown and other city officials.
Last year, 100 turkeys were given away during the Thanksgiving Giveback in Compton. Shiekh Shoes hopes to continue to increase the number of dinners donated and raffle items. The direct effect on the communities served is visible, and Shiekh Shoes wants to extend the reach of givebacks like these to locations around the country.
Shiekh Shoes is committed to lending a helping hand to those in need. Shiekh Shoes takes has helped clean up inner city schools, has given children a safe place to study and play after school in the Shiekh Shoes Community Center in Compton and, most recently, has donated funds to help victims of Typhoon Haiyan in the Philippines.
Shiekh Shoes is a footwear and apparel retailer based in California that operates nearly 140 stores in California, Oregon, Nevada, Washington, Arizona, New Mexico, Illinois, Tennessee, Michigan and Texas. Products featured range from athletic shoes and sneakers to women's dress and casual shoes and boots to shoes for the kids. Special offers include new releases and exclusives from top brands like Jordan, Nike, and Reebok.
####