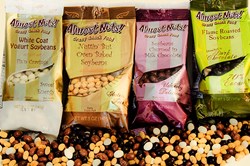 DENMARK, WI (PRWEB) November 30, 2013
Almost Nuts! has partnered with Verona, WI based distributor L&L Foods to help expand their business. Already found in other major grocery stores—including Woodman's Markets—the company's tasty, roasted soy bean product will now be more readily available in time for the holiday months with the help of their new relationship.
Hoping to create a wider fan base for their already popular, sweet snacks, Almost Nuts! is thrilled with their new alliance, calling it a match made in heaven.
Founded in 1948, L&L Foods is a leading provider of high volume, prepackaged foods throughout Wisconsin. Currently, the company distributes nearly five thousand dairy and other product lines through their distribution house, producing over 2.5 million units of finished products and product variations a week for customers around the country. L&L Foods – which owns the Bucky Badger label—supplies everything from grocery and c-stores to various food service companies throughout the southern half of the state.
Today, Almost Nuts! is proud to offer several types of quality, roasted soy nuts, including Oven Baked Soybeans, Milk Chocolate Covered Soybeans, White Coat Yogurt Soybeans and Dark Chocolate Covered Soybeans. These delicious, healthy soybean snacks are sold wholesale and retail.