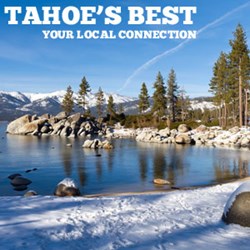 The 2013-2014 ski season has arrived and today, the editors at Tahoesbest.com released the top picks for places to stay near Lake Tahoe's ski resorts this December 2013.
Lake Tahoe, CA (PRWEB) December 02, 2013
The 2013-2014 ski season has arrived and today, the editors at Tahoesbest.com released the top picks for places to stay near Lake Tahoe's ski resorts this December 2013. Picks were based on various criteria including proximity to ski resorts, uniqueness, amenities, and overall room rate value. Hotels, motels, inns and vacation rentals were all considered. Below is a list of all the selections:
South Lake Tahoe near Heavenly
1. Fantasy Inn and Wedding Chapel - For Lake Tahoe vacationers who like a little something different, Fantasy Inn offers beautifully decorated theme rooms. Perfect for a romantic escape, Fantasy Inn boasts in-room whirlpool spas, luxurious interiors, and even the possibility of fireplaces. Feel like a pair of star- crossed lovers in the Romeo & Juliet suite, are enjoy the allure of the Arabian Nights room.
Favorite Feature: Lavishly decorated theme rooms offer an air of sophisticated fun.
2. The 3 Peaks Resort & Beach Club - Tahoe style motel rooms, 1, 2 & 3 bedroom suites and a 5-bedroom cabin. Rates are always competitive and staff is very friendly and helpful. On-site outdoor Jacuzzi. Pet friendly helps this one make the list.
Favorite Feature - You can walk to Lake, Heavenly Gondola and casinos.
3. Horizon Casino Resort Lake Tahoe - Walk across the street to the Heavenly Gondola. Low, value-rates and large rooms allow ski groups to fit more people in one room than other options. Friendly slots, an on-site movie theatre, great food options and entertainment.
Favorite Feature - Value room rates.
Others worth a shout:
4. Lake Tahoe Resort Hotel - Formerly the Embassy Suites offers great location and suites.
5. Lakeside Inn and Casino - Loose slots and fantastic location near Heavenly Gondola.
6. Forest Suites Resort - All suites hotel adjacent to base of Heavenly Gondola.
North Lake Tahoe Near Northstar
1. The Village at Northstar™ - Luxury accommodations in the beautiful village at base of Northstar.
Favorite Feature - Steps from the gondola, luxury rooms and skating rink.
2. Tahoe North Shore Lodge - Located in Carnelian Bay, Tahoe North Shore Lodge is a quaint and comfortable motel with all the amenities needed to enjoy a winter getaway. The motel is less than 20 minutes from Northstar California, and boasts free parking, complimentary Internet, and a great view!
Favorite Feature: Don't forget Fido! Tahoe North Shore Lodge allows pets upon request.
More:
3. Mourelatos Lakeshore Resort - Lakeshore resort in Tahoe Vista
4. Franciscan Lakeside Lodge Tahoe - On the Lake in Tahoe Vista
5. River Street Inn Truckee - Located in downtown Truckee, minutes from Northstar
North Shore Near Squaw
1. Resort at Squaw Creek - Full service luxury resort with ski-in, ski-out access to Squaw. Also features multiple restaurants, skating rink, outdoor pool and shopping.
Favorite Feature - Drinks around the skating rink.
2. Squaw Valley Lodge - Get away from it all this winter at Squaw Valley Lodge, located in Squaw Valley. The perfect escape for a family vacation, Squaw Valley Lodge offers an array of suites to choose from. From studio suites to three bedroom suites, this lodging option in a great choice for longer stays in Lake Tahoe.
Favorite Feature: Amenities galore! Squaw Valley Lodge boasts a health club & spa, six hot tubs, ski - in / ski - out convenience, and fun games.
North Shore Nevada Near Diamond Peak
1. Hyatt Regency Lake Tahoe Resort, Spa and Casino - The class of Incline Village, the Hyatt Regency Lake Tahoe offers guests AAA Four Diamond luxury lakeside accommodations, restaurants, casino and proximity to Diamond Peak, Mt. Rose and Northstar.
Favorite Feature: Lone Eagle Grille & Cutthroat's Saloon.
West Shore Near Homewood
1. Granlibakken - Often referred to as Tahoe's Best Kept Secret. Granlibakken offers condo style lodging, incredible buffet breakfast, sledding hill, outdoor heated pool, shuttles to ski resorts - all on 74 wooded acres.
Favorite Feature: Buffet
1. Tahoe Keys Resort - Nearest Heavenly. Hundreds of well-kept vacation rentals in the South Shore Tahoe Keys community next to the shores of Lake Tahoe.
Favorite Feature: Next to the Lake
2. Tahoe Select Rentals - Near Heavenly and Sierra. There is not bigger selection of properties in South Lake Tahoe than that of Tahoe Select Rentals. From small bungalow cabins perfect for romantic escapes, to huge 5 bedroom vacation homes, Tahoe Select Rentals has a little something for everyone. These South Lake Tahoe vacation rentals give travelers the best location for an affordable price.
Favorite Feature: Seasons specials. Be sure to ask about the deals going on this winter!
3. Lake Tahoe Cabins - Near Homewood, Alpine Meadows & Squaw. For best selection of vacation rentals in North and West Lake Tahoe, Lake Tahoe Cabins boasts a property list as long as Santa's naughty list after April Fools. Certain properties offer lake views, and amenities include WiFi, and fully furnished interiors. Ask about pet friendly possibilities.
Favorite Feature: Vacation rentals are beautifully decorated, so be sure to enjoy the rustic interior designing.
4. Pyramid Peak Properties - Near Kirkwood. Pyramid Peak Properties offers incredible vacation options in South Lake Tahoe, Kirkwood, and near Fallen Leaf Lake. Pet friendly options are available, so bring the whole family and enjoy a winter getaway to Lake Tahoe. For a trip off the beaten path try a vacation to Fallen Leaf Lake, a quiet lake just south of better known Lake Tahoe.
Favorite Feature: Best lodging option near Kirkwood.
5. Carnelian Bay Rentals - Near Northstar.. also Alpine, Squaw & Homewood. Fantastic condo complex on North Shore of Lake Tahoe.
Favorite Feature: Location - close to Kings Beach and Tahoe City.
6. Tahoe Luxury Properties - Near Northstar, Alpine, Squaw, Homewood & Diamond Peak. Number one in North Shore luxury vacation rentals.
Favorite Feature: Best luxury inventory.
About TahoesBest.com:
Lake Tahoe is known for outdoor activities, pristine waters and one of the best wedding destinations in the country. TahoesBest.com is the authority on what to do, where to stay, weather updates and all the best upcoming events for any visitor. Use TahoesBest.com to find information, reviews and deals on all things Lake Tahoe from concerts to vacation rentals. Lindsey Skinner, the editor of TahoesBest.com, loves helping with vacation plans to Lake Tahoe.