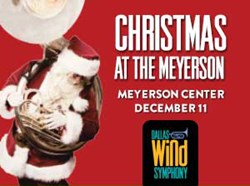 Dallas, TX (PRWEB) November 29, 2013
On December 11, Dallas Wind Symphony will be performing Christmas favorites during its annual Christmas at the Meyerson concert. Yuletide tunes, sing-alongs, and brass instruments will abound at the DWS concert. Bring the family for a seriously fun holiday event. The DWS will be joined by a 100-voice choir from the University of Texas on caroling favorites. Santa himself may even make an appearance.
The musical attraction will take place Wednesday, December 11th, at the Meyerson Symphony Center in downtown Dallas. The DWS brass and percussion will perform a fanfare live in the Meyerson lobby at 7:45pm, and the concert will begin promptly at 8pm. Go to http://dws.org/tickets for more information.
About the Dallas Wind Symphony:
Led by renowned conductor Jerry Junkin, the Dallas Wind Symphony is the leading professional civilian wind band in the United States today. Comprised of 50 woodwind, brass and percussion players, the band performs an eclectic blend of musical styles ranging from Bach to Bernstein and Sousa to Strauss. They combine the tradition of the British brass band with the musical heritage of the American town band and the pioneering spirit of the 20th century wind ensemble.