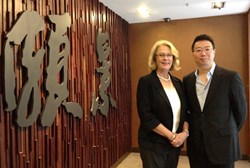 Source Point Training announced its joint effort with InVision Asia to bring its ICF approved coach training curriculum to China, Hong Kong and Taipei.
Healdsburg, CA (PRWEB) November 29, 2013
Source Point Training (http://www.sourcepointtraining.com) today announced their plans to begin certifying professional coaches in Asia markets through its partnership with InVision Asia. "This has been developing over the last year, and with the vision that Dr. Chris Lam, President of InVision Asia, and I share, we will launch the first of the certification programs December 9th in Hong Kong," says Barbara Fagan, President and Co-Founder of Source Point Training.
Source Point Training co-founders, Barbara Fagan and Lou Dozier, have trained and certified some of the best professional coaches in this rapidly expanding profession. And the expansion of coach training in the international community is now also taking off. "InVision currently offers a series of personal development/transformational trainings and saw that their clients were looking for more ways to take their professional growth to the next level. Everyone we've met on this journey is committed to making a difference in Asia and around the world," says Fagan. Bringing a professional coach certification training recognized by the International Coach Federation to InVision will support their business strategy and the much desired "continuation" of growth for their clients. Fagan continues, "Having the opportunity to become ICF credentialed is very important to InVision's staff and their clients."
But the coach certification trainings are just a part of the larger picture Chris holds for professional development at InVision. Over the past 8 months, the teams of InVision and Source Point Training have been laying the groundwork to bring this larger vision into reality. Ten members of the InVision leadership team traveled to meet with the Source Point Training team in Healdsburg last July. During their 4 days together, they developed a plan to launch InVision's Asia Coaching and Mentoring Academy (ACMA). This last Fall over 230 people participated in these classes in Hong Kong, Guangzhou and Taipei. As a result, Barbara and Chris were recently interviewed by the Hong Kong Economic Times about their commitment to bringing a coach training to his organization. The full article is available on-line. A translation of the article is available here.
The Advance Coach Certification and Mastery Coach Certification will begin next week in Hong Kong, and in Taipei in February. "Our approach has been developed from 11 years of teaching ways of being a coach not just the skill set," says Fagan. "This training is as much a personal development process as it is a coaching development process."
"We use an ontological approach in our coaching style," says Fagan. "We work with clients on specific goals while coaching to levels of self-awareness that will create greater achievement in all areas of their lives." The full program provides five classroom sessions conducted over 9 months with 150 hours of in-classroom training with additional virtual and one-on-one coaching. Fagan explains that the full certification process takes student coaches from learning the basics of being a coach, to developing core competencies recognized by ICF, "but we also introduce them to other resources that are part of achieving success as a coach."
Student coaches are introduced to Neuro-Linguistic Programming (NLP) to enhance coach-client rapport and ability to design strategies for success. Branding and business development experts provide training on developing a market niche, key messages and a platform to launch their business. "Our goal is to provide students all they need to be ready to step out and begin a successful business as a Certified Professional Performance Coach and to be prepared to acquire their credentials from ICF." Source Point Training's curriculum is ICF approved for 141 CCEs.
"Coaching continues to be important in maintaining high performance and developing more agile employees, work practices and organizations [sic]," says Dr. John McGurk, adviser for learning and talent at Chartered Institute of Personnel and Development (CIPD) based in the UK.
"Companies with a coaching culture have a proven record of higher levels of employee engagement. Right now is a great time to develop these skills as competition for recruiting and retaining the best talent becomes more competitive as businesses recover and expand. Fagan shares "We certify our coaches as Performance Coaches because we feel this is where coaching is headed - coaching higher levels of personal and professional performance."
To learn more about Source Point Training's Coaching Fundamentals and Mastery Certification programs offered annually in Phoenix, or how Source Point Training can assist you in bringing leadership development and a coaching culture to your organization, visit http://www.sourcepointtraining.com/coach-training/fundamentals-of-performance-coaching/, email admin(at)sourcepointtraining(dot)com or call 800-217-5660 x101.