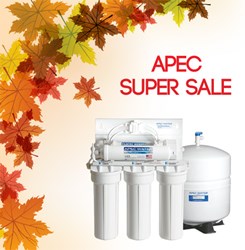 (PRWEB) November 28, 2013
During the holiday season, it's essential for families to spend as much quality time together as possible so having great tasting, completely purified drinking water by reverse osmosis at your fingertips is a smart and healthy advantage. This can greatly benefit many families by eliminating the need to go out continuously to buy expensive bottle water, which helps save lots of money in the long term. Drinking reverse osmosis water promotes a healthier concept for families who are health conscious by reducing plastic waste and providing the purest drinking water possible. In the water industry, reverse osmosis is the most popular water purification filtering technology that is designed to remove the most harmful contaminants (including bacteria and viruses) from drinking water using only your existing water pressure, without electricity, and with very little maintenance.
For families who want to condition and enhance their water quality for the entire home for guests without salt or chemicals, installing a whole house no-salt water softener will be an excellent choice for most homeowners. No-Salt water softening systems are designed to prevent hard water scale buildup on pipes, water heaters, showers, as well as reducing white mineral spots on dishes, glasses, sinks, etc. For homes on city water, a carbon filtration system can be used to remove chlorine, chloramine and VOCs so water is chemically free throughout every faucet. You can also combine a whole house carbon system, with a salt free water softener, along with a reverse osmosis drinking water unit. This is the most modern and complete whole house water purification system setup in the water industry today.
APEC's Thanksgiving Super Sale offers huge savings for residential reverse osmosis systems as well as whole house purification systems. Starting today, every residential RO system will include a free clear housing upgrade, an extra yearly filter set, a water testing meter ($100 value), and a special 5% off our most popular whole house purification systems all built in the USA. The clear housing will allow you to see the color and condition of your filters for better and the water meter will allow you to see the exact percentage of removal that the system is working at! This promotion ends on December 1st but please visit us on Cyber Monday on December 2nd, APEC is working on some great deals for select products. Stay tuned.
For over 17 years, APEC has been an industry leading manufacturer of high performance residential and commercial water purification systems. Based out of Southern California, APEC specializes in building the highest quality reverse osmosis drinking water systems and whole house water systems right here in the USA. To learn more about APEC Water and their filtration systems, please visit http://www.freedrinkingwater.com or call customer service at 1-800-880-4808 for more information.