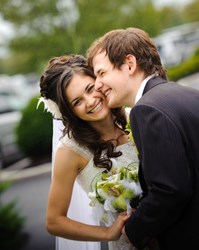 I looked for my reception center online. I am so glad I found SaltLakeWeddingReviews.com! Thanks for helping me find the perfect reception center!
Salt Lake City, Utah (PRWEB) November 29, 2013
Salt Lake Wedding Reviews is striving to help brides find the best vendors for their weddings. Planning a Wedding in Salt Lake City, Utah can be a challenge. Brides are continually searching to find the best suited wedding professionals for their wedding day. There are over 5,000 Salt Lake Wedding professionals in the valley that offer services to brides. This makes finding the best wedding vendors a difficult task.
Salt Lake Wedding Reviews offers a free review service to help Utah Brides plan for their weddings. Each Wedding Professional is offered a business listing at SaltLakeWeddingReviews.com. Each listing includes a review section that allows brides to write reviews and leave ratings about each local wedding business. These comments and reviews are then publicly posted for other Salt Lake Brides to see and research.
Salt Lake Wedding Reviews is inviting brides everywhere to see the top rated Wedding Reception Venues in Salt Lake City, Utah. Follow the link to find this year's 5 star wedding locations.
"Every Bride deserves an unforgettable wedding no matter their situation or budget. There are thousands of great wedding businesses in the Salt Lake area. Our job is simple; we help brides find the wedding vendors that are the best match for their wedding and their situation. From reception centers and florists to caterers and photographers, we work with all brides and all wedding professionals." – Ryan Swayt - Co Owner of Salt Lake Wedding Reviews
Salt Lake Wedding Reviews has also announced this year's top rated Wedding Florists in Salt Lake. Visit to see which wedding florists have been rated 5 star wedding professionals.
Salt Lake Wedding Reviews is Utah's fastest growing wedding planning website. They have been serving brides in the Salt Lake area since 2012. As of late, brides are turning to the internet for their wedding needs. Saltlakeweddingreviews.com was designed to help brides plan their entire wedding all in one place.