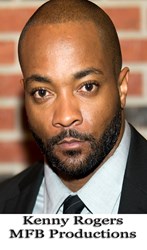 Orlando, FL (PRWEB) November 29, 2013
Kenny Rogers, known for his acting, TV/film directing and book writing is now a sought after philanthropist. Rogers is engaging audiences of all proportions with his pensive motivational/inspirational speaking.
Kenny shares his knowledge with the world as a spiritual leader, acting coach, fitness coach, life coach and business coach. As a natural encourager, Kenny has an ingrained desire to inspire others. With many skills that support his ability to speak to large crowds, Kenny has found a home for his heart. Sweeping the cobwebs of despair from the minds of many, Kenny imputes hope. If hope is already present, Kenny has a charismatic ability to add hope to hope.
Kenny is brimming with a diversity of skills. As an actor, you can see Kenny as the lead character, "Trask Maxwell," in Brenda Jackson's film, "Truly Everlasting." As an author, Kenny has produced novels such as: Turkey Bacon Brass Benevolence and Means 2 A Mend available on Amazon.com.
Kenny is the founder of My Father's Business Productions. He has written, directed and produced a list of films and TV Pilots such as: Turkey Bacon (a TV dramedy series pilot), Odd Ducks (a comedy TV pilot) and Invisible Influence (a made for TV movie). Kenny is currently in production of a feature length film, Interview with the Prince, which should be completed early 2014.
Kenny has developed production skills on every level. He is a TV/Film editor, photographer, Photoshop editor and actor. He is also marketing director for MFB Productions and a women's clothing line, U ARe! Fashions.
His sponsor partner states: "Kenny has a realistic, non-clique manner in which he engages his audience. He speaks like that of a rhythmic poet."
Book Kenny Rogers today to motivate and inspire an assembly of employees, church congregation, college students, etc.
Kenny Rogers
Kfrogers7(at)yahoo(dot)com
http://www.kennyrogersspeaks.com
(863) 969-9505