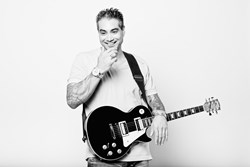 Fort Lauderdale, FL (PRWEB) December 03, 2013
December is an expensive month for the pocketbooks. From presents to holiday parties, it can be difficult to budget for everything. Skype guitar lessons teacher Dyce Kimura understands the holiday rush and is proud to offer an exclusive deal for music lessons. With the mention of this article, students will receive a 10 percent discount off their first lesson during the first week of December.
"Everyone deserves the opportunity to learn music," says Kimura. "This is my way of giving back during the holiday season." With the New Year right around the corner, Kimura says everyone should pursue their dream of becoming a musician. "New year, new skills, right?" jokes Kimura. Indeed, practicing more and taking lessons are often on the New Year's resolution lists of many aspiring musicians.
Skype guitar lessons allow students the opportunity to learn from the comfort of their home. "It's easier to learn in an environment that you're comfortable in," says Kimura. "Music studios can be intimidating. Plus, it's more convenient for more students and families." Students enjoy the benefits of traditional lessons coupled with the convenience of studying from home.
As a professional musician who records in the studio and performs at live venues, Kimura specializes in all kinds of music. Kimura offers Skype beginner guitar lessons and works with students to help them achieve their goals. Whether they want to learn pop, jazz, bluegrass, rock, or something in-between, Kimura is dedicated to helping students accomplish their goals.
Skype Christian guitar lessons are one of Kimura's most popular offerings. With guitar-based artists like David Crowder and Chris Tomlin, many people want to learn how to express their faith and worship through guitar. "It's important for students to pursue their dreams and their interests," says Kimura. "This is why I work to help students learn whatever style naturally interests them. You've got to have a passion for music – that's what it's all about!"
"He's really encouraging and has helped me overcome my fear of performing," says one student. In fact, most students name Kimura's commitment to personalized lessons as one of the main reasons they enjoy studying with him. "You can tell he really cares about your success," says another student.
With the mention of this article, new students can experience a 10 percent discount during the first week of December. It's the most wonderful time of the year, indeed!
Dyce Kimura is an internationally renowned musician offering online music lessons in Fort Lauderdale, FL.
Contact:
786-457-3687
http://www.skypeguitarlessonsonline.com/contact-dyce/