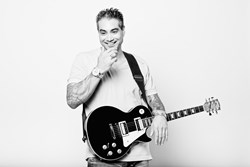 Fort Lauderdale, FL (PRWEB) December 09, 2013
Have you always wanted to learn music but didn't have the time or money? Or have you struggled to find a dedicated instructor who gives personalized attention? Internationally recognized guitar instructor Dyce Kimura is excited to remove all excuses. With the mention of this article, first time students can enjoy a 15 percent discount on their first lesson during the second week of December.
As the holidays kick into first gear, Dyce Kimura looks forward to spreading the gift of music through Skype guitar lessons. "Students have the opportunity to learn in the comfort of their own homes," says Kimura. "This is convenient, cost-efficient, and allows students the same benefits as traditional lessons." Aside from convenience, Kimura also says the internet removes the challenges of finding a quality music teacher to study with. "Students can study with whoever they want regardless of geographical location."
Dyce Kimura is one of the most sought after music instructors in the region. Students want to learn from Kimura's insight, experience, and expertise in the music industry. "He's not just a teacher," says one student. "He's a professional who makes a living doing what he teaches. Dyce is the real deal." Indeed, students enjoy the practical approach that Kimura brings to every lesson.
When students enroll in Skype beginner guitar lessons, Kimura works with them individually to discover their strengths, interests, and uniqueness as a musician. "He doesn't teach a cookie cutter approach," says one student. "He really focuses on your musicality and bringing out the best musician inside of you." Regardless of the style of music the student wants to learn, Kimura works with the student to help them learn the music technique needed to succeed.
Skype Christian guitar lessons are one of the most popular packages at the moment. As a professional musician who plays in a church, Dyce Kimura is familiar with all the styles of worship music. Whether someone wants to learn David Crowder, Casting Crowns, or some other Christian artist, Kimura helps students learn about worship music. "The goal is to make every student a musician," says Kimura.
Students wanting to enroll in Skype guitar lessons can enjoy a 15 percent discount off their first lesson during the second week of December. "This is the perfect time of the year to begin learning music," says Kimura. "Music lifts the spirit and inspires, which is perfect for the holidays!"
Dyce Kimura is a professional musician who is passionate about teaching and helping young musicians develop their gifts and talents.
Contact:
786-457-3687
http://www.skypeguitarlessonsonline.com/contact-dyce/