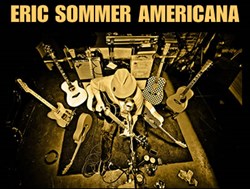 Authentic American style of guitar... simply one of the best! - Nick Ross, UK Music
Birmingham, Alabama (PRWEB) December 11, 2013
Eric Sommer - Pop Americana Artist - heads out of Texas into a string of shows in the Central Tennessee Music Corridor. After a month in the East Texas Music Scene, Mr. Sommer moves a bit east to bring his brand of acoustic/telecaster blues-based guitar pop to a string of regional venues.
The excursion starts and ends with signature regional showcase venues:
1. Triple Crown - San Marcos, TX - Dec 11
2. Slab Series - Austin, TX - Dec 13
3. Kudzu's - Memphis, TN - Dec 15
4. Matthews - B'ham, AL - Dec 16
5. P&H Cafe - Memphis, TN - Dec. 17
6. Atlanta Room - Atlanta, GA - Dec 19
7. The Nick - B'ham, AL - Dec 20
8. The Midtown - Little Rock, AR - Dec 21
To reach some of these more remarkable soundscapes, Mr. Sommer travels solo on this leg and brings 7-9 guitars onstage along with a collection of small, beat-up amps held together with clothes pins, duct tape and zip ties. The stage is usually topped off with a collection of vintage Lava Lamps, acquired, as Eric Sommer explains it, "...through raucous negotiations in pawnshops, thrift stores and flea markets."
With open tunings, slide guitar, lap-slap tone guitar and a remarkably aggressive fingering style approach, watching Eric Sommer will make you jump out of your seat and holler for joy. And the songs, the words and the lyrical quality belie a deeply sensitive approach to documenting cast-aside events and recording the human experience - honestly or otherwise.
These songs are visual fabric to the American narrative of freedom and creative expression, making message and content work effortlessly with technical skill and musical inventiveness. It's a remarkable combination.
There are very few players who have maintained this authentic American style of guitar and Eric Sommer is one of the very best.
Amen.
For Music Samples, please visit Eric Sommer online for additional schedules or contact him at eric(at)ericsommer(dot)com or call 202-255-1995. Additionally, you can find Eric Sommer on Facebook(dot)com/ericsommermusic and Twitter @itsericsommer. Rainy Day Karma is also available on iTunes and CDBaby.
Eric Sommer is represented by Clyde is Thinking, and PR programs are managed thru MTG/NY. For more information, promo/appearance requests or to set up an interview, please contact Tom Monihan 202-255-1995.