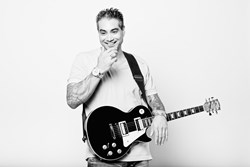 The goal is to make everyone a musician.
Fort Lauderdale, FL (PRWEB) January 16, 2014
Looking for more ways to add cheer to your holiday season? Music teacher Dyce Kimura is proud to announce exclusive discounts to his highly esteemed Skype guitar lessons. With the mention of this article, first time students can enjoy a 20 percent discount off their first lesson during the last two weeks of January.
"January is an expensive time of year for everyone," says Kimura. "I just want to help give students the opportunity to pursue their dreams and passion. Financial worries shouldn't be a barrier to the lifelong gift of music." Students who study with Kimura appreciate his passion for helping them achieve their goals no matter what. Whether they want to learn rock, pop, country, or Christian music, Kimura works with each student to improve their musicality.
Skype Christian guitar lessons have given students the opportunity to lead worship at church, school, and also student conferences. Many students even pursue songwriting to write their own worship songs. "It's inspiring to see these students take what you teach them and become an artist themselves," says Kimura. Indeed, Kimura focuses on the individuality and innate talents of each student.
Kimura's dedication is what distinguishes him as a highly respected instructor. "Teaching music goes beyond the technical aspect of music theory and good technique," says Kimura. "I try to inspire them to do something creative, something meaningful to them." Even for beginner musicians, Kimura focuses on the long-term picture of musical growth and development.
Through Skype intermediate guitar lessons, Kimura has helped countless students learn how to read chord charts, write lead sheets, play from ear, and song write. "We're each different people, and as such we each have a unique style of musicality," says Kimura.
With studio work, live performance gigs, and songwriting opportunities under his belt, Dyce Kimura is a musical expert who has inspired a new generation of musicians. Currently, Kimura also plays as a church musician, which gives him incredible insight into worship music and those wanting to learn it.
Skype guitar lessons are a unique opportunity for new, moderate, and advanced musicians alike to improve their musicality. Learning from the comfort of home is a privilege that most young musicians enjoy and relish. New students can take advantage of a 20 percent discount for their first lesson during the last two week of January. Happy New Year – and enjoy the gift of music!
Dyce Kimura is an active musician in the greater Fort Lauderdale region. He is internationally recognized for his online music lessons.
Contact:
786-457-3687
http://www.dycekimura.com