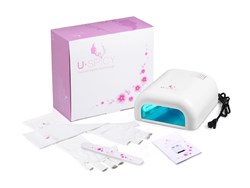 San Jose, CA (PRWEB) November 28, 2013
On November 19, 2013, USpicy Nails' oldest UV nail lamp model, the Macaron, carried the "#1 Best Seller" tag for the first time since the brand began selling about two years ago on Amazon.com Marketplace - an Amazon service that allows third party sellers to sell their merchandise on Amazon's online retail platform. "It may be a minor achievement to some but it's huge for us to see our brand on a top sellers list, and as well as reading positive reviews that our customers are enjoying our nail dryers." -- USpicy VP, Clare Chu.
USpicy's Macaron UV lamp, 4 UV CCFL bulbs that emit 36 watts of UV light to cure UV gel and shellac nail polishes quickly. The Macaron also features a timer setting which allows the user or nail technician to set the curing time for 120 seconds, 180 seconds, and infinite time. With its affordable pricing at $36.99, this UV nail dryer can cure just about all types of UV gel and shellacs giving the versatility for nail art enthusiasts and professionals to have a device that cures all UV gel type nail polishes. Brands that have cured beautifully but not limited to are: Gelish, CND, Voss, OPI Gelcolor, Sephora by OPI Gelshine, IBD, Artisan GelFX, NaiLuv may be used with USpicy's nail lamps. "So far, there hasn't been any problems when I've tested these brands under our Macaron lamp." -- USpicy Marketing Associate, Vivian Wong.
Features:

Drys (hardens) UV type nail polishes such as soak offs and shellacs.
Highly efficient PL UVA bulb for faster, safer and odorless curing.
Heat-exhausted chip to increase reliability and life span of the nail dryer.
Disinfects while curring.
Sliding tray makes it easy to clean.
Time controlled for 120 seconds, 180 seconds and infinite.
Suitable for both professional and personal use.
Specifications:

Color: white
Input Voltage Range: AC110-120V, 50/60HZ
Material: Molded ABS
Warranty: 1-Year Manufacturer Warranty
Package includes:

1 USpicy® Macaron USND-3603 Professional UV Gel Lamp Nail Dryer (White, 36W)
4 (four) 9W (36W total) 365nm UV Bulbs
1 Nail filer
Pair of anti UV gloves
Instructions
The popularity of gel manicures such as soak off gels and shellacs have increased over the years due to its durable nature and glossy finish. Unlike standard nail polish lacquers, gel nail polish can last up to 2 weeks or even longer without chipping, smudging, or wearing down its glass-like shine even through harsh hand conditions such as washing hands, doing the dishes, or any constant use of the hands. Like regular polishes, it is painted on with a brush from a bottle, however it does not dry like it. Instead, a wearer must cure (harden) their gel manicures under a UV nail lamp (CCFL or LED type bulbs) for several seconds where a chemical reaction occurs to create the smooth and durable texture.
About USpicy Nails:
Based in San Jose, California, USpicy a nail accessory retailer predominately manages its retail business through major retail sites such as eBay and Amazon.com and sells mostly nail dryers. USpicy Nail's goal is to offer products that help the beauty community feel "Spicy" about themselves, offering tools and accessories to help users create their desired nail art at budget friendly prices. USpicy Nails also offer LED nail drying lamps, nail dryers for non UV nail polishes as well as UV protective gloves for the health conscience. For more information, please visit http://www.uspicy.com or http://www.facebook.com/uspicy.