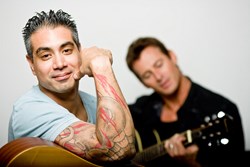 The goal is to make everybody a musician.
(PRWEB) December 16, 2013
Looking to give a Christmas present they won't forget? Internationally renowned guitar teacher Dyce Kimura is proud to announce an exclusive discount for first time guitar students. Simply mention this article for 25 percent off your first lesson during the month of December.
"This is a busy and expensive time of year," says Dyce Kimura. "I don't want stress or finances to be the reason someone doesn't pursue their dream of music. Hopefully this opens the opportunity for everyone." Indeed, Kimura is known for his passion of making music accessible to all students.
Through Skype guitar lessons, Kimura allows students to learn from wherever they're based. Whether students learn in the comfort of their own home in Fort Lauderdale or live across the country, Kimura says technology allows students to choose their teacher regardless of location.
Thanks to his experience as a studio musician and live performer, Dyce Kimura is one of the most sought after music teachers in the region. Skype guitar lessons make it possible for students to study with Kimura regardless of geographical location. "It's a great opportunity for everyone involved," says Kimura.
Skype beginner guitar lessons focus on introducing students to the instrument and helping them understand the basics of music. "Everyone learns differently. Some are visual learners, others auditory," says Kimura. "It's my job to help students learn regardless of their learning preference." Kimura's commitment to personalized care is what makes him one of the most respected music teachers in the region.
Kimura is known as an instructor dedicated to his craft, student success, and innovation through teaching. Throughout his career, Kimura has focused on utilizing technology to make lessons more efficient, convenient, and affordable for everyone. He believes music opens up a creative world all people should learn from and experience to the fullest.
As a studio musician and live performer, Dyce Kimura is experienced in every genre of music. One of his most popular offerings is Skype Christian guitar lessons, which teaches students how to play worship music. Whether they want to lead worship or simply want to learn how to play, Kimura helps students accomplish their goals. "I wouldn't be where I am today musically if it weren't for Dyce," says one student.
By mentioning this article, first time students can enjoy a 25 percent discount off their first online music lesson during the month of December.
Dyce Kimura is a respected studio musician, live performer, and creative collaborator. He enjoys teaching and sharing his expertise with beginner and advanced students alike.
Contact:
786-457-3687
http://www.skypeguitarlessonsonline.com/contact-dyce/