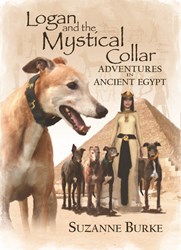 Dallas, TX (PRWEB) November 29, 2013
This Friday, Logan and The Mystical Collar will be offered on Amazon.com in both paperback and Kindle. The color illustrated paperback version will available at 40% off the list price. Kindle version with color illustrations is offered at $4.88.
Logan and The Mystical Collar has been a favorite with children and adults because of its heartwarming story of Logan, the Greyhound and his time travel adventures to Ancient Egypt. The book touches on the sensitive social topic of bullying.
Ms. Burke's stories are unique in that they not only teach children about today's social issues, but also add thought provoking questions and projects at the end to inspire children to creatively think about the aspects of the story. Also included is an extensive vocabulary list to help children stretch their word usage and history chapters to educate readers on unique historical aspects of Ancient Egypt. Children are captivated by the story's characters who are greyhounds and well known historical figures.
A percentage of proceeds from the sale of the books are donated to the Greyhound Adoption League of Texas, a non profit greyhound adoption group in Dallas, Texas where Ms. Burke volunteers her time to help home retired racing greyhounds.
Logan's Secret, Ms. Burke's first book introduces Logan's character and tells of his true life harrowing story from race track to forever home. Both books are written from Logan's perspective, which adds a real life feel to the stories.