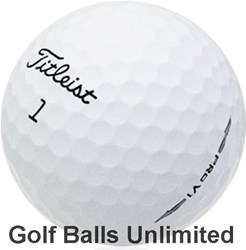 "Black Friday is a great time to save on golf balls but its important to know the best golf ball for your game," says GolfBallsUnlimited.com Staff member Steve.
Atlanta, GA (PRWEB) November 29, 2013
In preparation of the unprecedented discount on Recycled (Used) Golf Balls being offered by GolfBallsUnlimited.com this Black Friday, the experts at Golf Balls Unlimited are releasing a Golf Ball Selection Guide for golfers of every skill level. While it is common to see even casual golfers paying special attention to their gear and spending considerable time and money going through a number of golf equipment suppliers to ensure they have the right clubs. Rarely, if ever, do they think about one of the most vital aspects of their game; the golf balls they are going to purchase. In fact, most golfers spend upwards of $30.00 for substandard new golf balls that do not suit their game. Most amateurs are far better of purchasing recycled golf balls in wholesale rather than new.
Top grade used golf balls are in like new condition as they have been hit only once or twice and are a great value for money. Golfers can really benefit by trying different brands and models without worrying too much about the cost. The most important thing is to choose the right golf ball and purchase them from a reputable golf ball recycling company. Here are some factors to consider while selecting the correct golf ball.
Skill Level
First off, analyze skill level. If starting out, it is better to go with a ball that has a hard cover and is more durable such as Top-Flite, Pinnacle or the Titleist DT Series. These balls are known to travel farther even when hit with minimal force. On the other hand, expert golfers should go for a softer ball that offers greater control such as the Titleist Pro V1,Callaway HEX, Taylormade Lethal or the Nike 20-XI. In this case, selecting a high end ball can actually help lower scores.
2-Piece or 3-Piece
2-piece and 3-piece balls are sold at all leading golf ball suppliers. The main difference between the two is the distance they offer. 2-piece balls are difficult to draw or cut, but they travel well through the air and tend to have straighter ball flight. Beginners or high handicappers will benefit from using 2-piece golf balls. 3-piece balls offer greater feel and spin that enable the golfer to have better control over shots. These balls are for experienced golfers who want to work the ball and require more spin. 3-piece balls should be used by low handicappers.
The All-Purpose Ball
If confused about choosing between 2-piece and 3-piece golf balls, don't worry. There is a third type of golf ball that can be considered a hybrid of both. It is considerably more durable than 3-piece balls and doesn't offer as much spin. This 'all-purpose' ball is perfect for players who have an intermediate skill level as they will help them cover the gap between being a beginner and a pro.
Compressions
Last, but not the least, it's important to get the compression of the ball spot-on. The recycled golf balls sold at GolfBallsUnlimited.com offer different compressions. For slower swing speeds (70-90 MPH), opt for a ball that has a 60-70 compression. Balls with 100 compression or higher are optimal for golfers with faster swing speeds.
The golf ball is a complicated and integral part of the game, and one that can dramatically impact on-course performance. Be sure to consider skill level, playing style and budget while selecting the right ball. The right golf ball will help improve scores, play to strengths and make people better golfers.
Be sure to check the unbelievable deals on Premium Recycled Golf Balls at GolfBallsUnlimited.com. Free shipping is being offered on orders of $29.00 or more instead of $50.00.
GolfBallsUnlimited.com was established over 10 years ago as an affordable and efficient way of getting the best in used, bulk, recycled and top quality golf balls for less. They also carry new golf gear and new golf balls at deeply discounted prices. Their goal is to provide every golf enthusiast with brand name golf gear at affordable prices. All purchases made on their website are processed and shipped from their warehouse facilities in Atlanta. For over a decade, they have established themselves as competitive players in the market with superior Customer Service being a corner stone of their business philosophy. All used golf balls sold on their site are collected from premier golf courses in the United States, gently cleaned and hand sorted. Their quality control is one of the best in the industry.