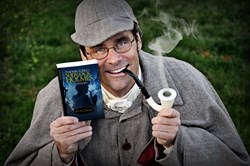 You star as Sherlock Holmes in The Adventures of Sherlock Holmes!
(PRWEB) November 29, 2013
In order to make gift giving even more convenient for the holidays this year, Book By You has just launched their GIFT GUIDE, the best way to narrow down their extensive collection of titles to find just the right one. The Gifts for Men GIFT GUIDE features the best personalized Book By You titles for husbands, boyfriends, or dads.
Mystery loving misters will devour Book By You's personalized version of THE ADVENTURES OF SHERLOCK HOLMES, where he can star as the famous neurotic Detective Holmes himself, with a lucky lady friend stepping into the role of Irene Adler. Perfect for fans of the BBC's SHERLOCK, or the CBS adaptation ELEMENTARY. Also featured is Agatha Christie's THE SECRET ADVERSARY and Book By You Original GOLDEN NIGHT, with a sleuthing hero and an art conservator heroine who must solve a break-in at a museum.
Adventure-seeking sirs can get their romantic jollies as a swashbuckling pirate in PIRATES OF DESIRE, or roam the wild west in WESTERN RENDEZVOUS. If this planet isn't quite big enough for him, and he'd rather reach for the stars, Book By You's exclusive title STARSTRUCK is the perfect match— great for fans of The Legendary STARS (Trek & Wars), or the more recent book-to-film adaptation, ENDER'S GAME.
Readers can personalize their selection by providing specific information like loved-one's names, features, even favorite drinks and places, and over twenty-five other unique characteristics to make their fantasy world a reality. A spouse, friends, and family can be included, too. The result is a full-length personalized novel, available in ebook, paperback or hardcover, that can be further personalized with a customized cover and individual photo for the back cover, making this the most unique gift imaginable.
Book By You's entire personalized collection is now also available as personalized ebooks. Personalized ebooks are available for download immediately upon ordering. To make them especially unique, each ebook includes a free photo upload feature. Add a personalized dedication, and the result is a remarkable ebook that can be taken anywhere and read any time.
To purchase a personalized romance, readers go to the company's website at BookByYou.com and complete a character questionnaire specifying the information to be included in their book. The company offers a free demonstration area where readers can preview personalized excerpts from any of the company's teen, romance, mystery or children's personalized books.
BookByYou.com has received national media coverage and has been featured on ABC's The View, CNN, Fox News, The Wall Street Journal, Jimmy Kimmel Live and many additional media outlets.
BookByYou.com is an interactive publishing company and the world's largest provider of personalized books. Media interviews, promotions and give-aways are available upon request. Please contact Michael Pocock at 1-877-898-1440 or publish(at)BookByYou(dot)com.