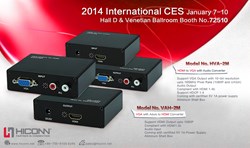 We are looking forward to show our innovations at CES 2014.
(PRWEB) November 28, 2013
Hiconn Electronics, an award-winning company in connection cables and customized cable assemblies, today announces that they will attend the 2014 Consumer Electronics Show (CES) in Las Vegas, USA. Furthermore, the company plans to showcase its newest HDMI cables, SATA cables and VGA cables at the show.
Jame Yin, the sales director of the company, said, "We are very excited to bring our innovations at CES 2014, and we are proud to use new technologies to help people keep balance in their busy lives. Our high quality products and services, which are offered at reasonable prices, make us stand out from other businesses operating in the same industry."
According to Jame Yin, Hiconn Electronics rolls out 2.2 million piece of parts every month; the company can ship out any order of 1,000 units within 10 days. Hiconn Electronics' mission is to develop premium quality products at affordable prices through experience, innovation and advanced technology that exceed clients' requirements and expectations.
"All our products are CE, FCC, UL and RoHS approval. We provide a free one-year replacement and lifetime warranties for all its products," Jame Yin adds.
About CES
The CES show is the world's largest show where next-generation innovations are introduced to the marketplace. Every year, the show attracts the world's business leaders and pioneering thinkers to a forum where the industry's most relevant issues are addressed. It has served as the proving ground for innovators and breakthrough technologies for more than 40 years.
About Hiconn Electronics
Hiconn Electronics (Shenzhen Hiconn Electronics Co. Ltd.) is devoted to designing and manufacturing a wide range of connection cables and customized cable assemblies, offering many HDMI cables, VGA cables, SATA cables, USB cables, 1394 cables, DVI cables, SCSI (Small Computer System Interface) and more. For more information, please visit http://www.hiconn.net/.