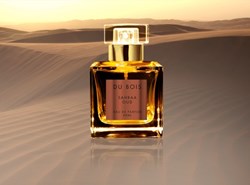 Recently the international fragrance industry has seen a proliferation of new Oud-based fragrances, which makes it one of the most in-demand fragrance components in the world
Abu Dhabi, Dubai (PRWEB) November 29, 2013
The product received wide acclaim at both events; further validated by several orders from members of the Royal Families of Saudi Arabia, Brunei and Bahrain as well as invitations to attend private reviews at other Gulf based royal palaces.
Prince Mohamed Bolkiah, brother of the Sultan of Brunei, spent 15 minutes sampling various fragrances at the Fragrance Du Bois stand before purchasing several bottles of Oud Sahraa and Oud Bleu, his personal favourite from the Shades du Bois collection of eight luxury fragrances.
Her Highness Shaikha Lulwa bint Khalifa Al-Khalifa, daughter of His Royal Highness, was also enchanted by the Oud Sahraa fragrance as well as Oud Rose, both of which she acquired; upon ordering the fragrance she wished Fragrance Du Bois representatives a successful entry into the Gulf and hoped to see the products in her country of Bahrain very soon. His Highness Shaikh Ali bin Khalifa Al Khalifa, Deputy Prime Minister of Bahrain, was presented with a gift of pure Oud Oil by Dean Henry representing Fragrance Du Bois Middle East and Mohammed Al-Fardan the Bahrain based local partner.
Fragrance Du Bois exhibits centred around Sahraa Oud from their premium Privé collection, a bespoke Oud fragrance with the added subtlety of Rose Absolute, capturing the essence of desert wilderness; the vastness of windswept sand dunes of the Arabian Desert combined with hope and elusive qualities of an oasis; strong, woody, musky with an intoxicating hint that reveals the fresh, sweet, sensual and stimulating scent of nature. It simply illustrates the term "liquid gold" and is just one of a range of products that Du Bois brings to the Gulf from sustainable and organically sourced agarwood and Oud.
Du Bois' exquisite line of fragrance is guaranteed to only use 100% pure and genuine oud oil produced from its own plantation trees, and is one of the very few to hold official certification from IFRA (The International Fragrance Association). "Recently the international fragrance industry has seen a proliferation of new Oud-based fragrances, which makes it one of the most in-demand fragrance components in the world," says Nicola Parker, Brand Director, Fragrance Du Bois. "But it is also surprising how some of the leading brands do not even contain real Oud. At Du Bois the originality of our Oud is absolutely guaranteed. We even allow bespoke buyers to sample and select specific oils before their niche fragrances are created."
Fragrance Du Bois not only source the Oud Oil from their own plantations in Asia but, through their association with speciality plantation managers from Asia Plantation Capital, they offer investment opportunities where Gulf citizens can actually own their own Oud / Agarwood trees.
Gary Crates, Global Business Development Director for Asia Plantation Capital, explains "most people in the Middle East take Oud and Oud woodchips for granted, it has been an important part of their culture for thousands of years. However what most people do not know is that the actual tree that produces Oud, the Aquilaria tree, is critically endangered in the wild and has already been wiped out in many Asian countries".
In recent years, and through diligent research, Asia Plantation Capital has developed a sustainable plantation solution which not only protects the species but also helps preserve the cultural significance of Oud and Agarwood in the Middle East.