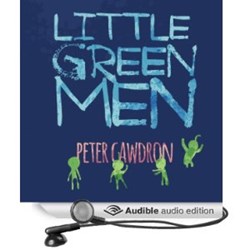 Exciting edge of your seat thrill ride!
(PRWEB) November 30, 2013
SciFi Publishing is pleased to announce its newest scifi audiobook, "Little Green Men", written by bestselling author Peter Cawdron, is now available on Amazon, Audible and Itunes. http://amzn.to/1bXKlnI
About Little Green Men
The crew of the Dei Gratia set down on a frozen planet and are attacked by little green men. Chief Science Officer David Michaels struggles with the impossible situation unfolding around him as the crew are murdered one by one. With the engines offline and power fading, he races against time to understand this mysterious threat and escape the planet alive.
What People are Saying
5.0 out of 5 stars "Exciting edge of your seat thrill ride!"
5.0 out of 5 stars "A Thrilling Tale of First Contact!"
5.0 out of 5 stars "Masterful Thriller!"
5.0 out of 5 stars "A terrific adventure story"
5.0 out of 5 stars "A real cliff hanger!"
5.0 out of 5 stars "Lots of suspense and lots of fun!"
Little Green Men is currently ranked #37 in the Amazon Kindle Store > Kindle eBooks > Science Fiction & Fantasy > Science Fiction > First Contact
About the Author
Peter was born and raised in New Zealand, travelled to the US and Scotland for several years, before settling in Australia.
Peter writes science fiction, specialising in action/adventure and hard science novels. His début novel, Anomaly, jumped into the top 100 best sellers for High Tech Science Fiction within days of being released and rose into the top 10 for over a month. With over a hundred review comments, from a wide variety of perspectives, Anomaly continues to stir the imagination of readers. While his bookMonsters is a dystopian look at the importance of reading. Feel free to reach out to him at http://thinkingscifi.wordpress.com/
About Sci-Fi Publishing
Sci-Fi Publishing enables authors to bring their work to life, creating powerful audiobooks for Sci-Fi fans. We partner with authors from audiobook production to marketing so they can continue to focus on their passion, creating new and amazing worlds.
For more information about us and to discover other great scifi audiobooks, visit us at either http://www.scifi-publishing.com or http://www.scifi-audiobooks.com.