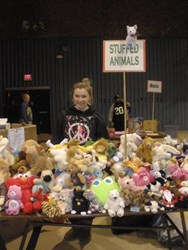 Tables piled high with toys now fill up every available space, and children with smiling faces run around with hefty bags over their shoulders as they pick out their favorite items.
Mahwah, NJ (PRWEB) November 30, 2013
The idea for the Paterson Toy Sale emerged when a group of volunteers from the Bergen Highlands United Methodist Church found a box of donated toys and stuffed animals at a local food and clothing drive. One thoughtful volunteer decided that instead of getting rid of the toys, they should be sold at a very low cost to families in need. The volunteers partnered with the Boys and Girls Club of Paterson, and the Toy Sale has since become a two-day event that involves over 50 volunteers and hundreds of families.
When it began, the Toy Sale was a small church-sponsored event, and the volunteers used their vans and SUVs to bring the toys to the Boys and Girls Club. As the years passed, more donations began to come in, and eventually the Toy Sale grew so large that it required the use of two entire basketball courts at the Boys and Girls Club.
Ridgewood Moving Services' moving trucks are now responsible for transporting nearly 10,000 lbs. of toys to the Paterson Toy Sale annually.
Tables piled high with toys now fill up every available space, and children with smiling faces run around with hefty bags over their shoulders as they pick out their favorite items. The families and their children are so appreciative of the opportunity to buy toys for the holidays, that it more than makes up for all of the hard work and stress that goes into the planning necessary for the event. To witness the smiles on these children's faces is the best gift of all, and is more rewarding than any of volunteers could have imagined.
Beginning in early November, Ridgewood Moving Services drops off empty moving boxes in various locations around the community so that families with extra toys may easily donate to this charitable cause. In order to move such a large amount of toys—which weigh nearly 10,000 pounds—Ridgewood Moving volunteered the use of their moving trucks and movers. On the day of the sale, Ridgewood's trucks go around to the many donation locations to pick up the toys and drop them off at the Boys and Girls Club. Then, on December 6th and 7th, hundreds of families come to buy these gently used toys and stuffed animals for a nominal cost.
All of the proceeds from the Toy Sale go to CUMAC (Center for United Methodist Aid to the Community), the local food-bank, and the Boys and Girls Club of Paterson. None of the volunteers are paid for their work; they simply wish to bring joy to the children in their community. For Ridgewood Moving, and all of the other families and organizations that donate their time and toys, this event is chance to both give back to the families in the area, and to create cheer and laughter. If your family has more toys than they need, or if your company wishes to become involved in this wonderful event, contact Cindy Myer at (201) 529-2211.
About Ridgewood Moving Services:
As New Jersey's most trusted moving company, Ridgewood Moving Services takes great pride in providing professional, quality service to the residents of the Northern New Jersey area and surrounding communities. They are a woman-owned and operated organization built on the values of trust, dependability, and quality—all of which are the cornerstones of their success. Their team of highly-trained professionals are available to ensure a "smooth move" during a most stressful time. Corporate and residential moves, packing, storage, warehousing, delivery, and customized crating are just some of the services that Ridgewood Moving provides. In business since 1966, Ridgewood Moving believes in giving back to the community, and providing dependable moving service for your move down the road, or across the country. Contact Ridgewood Moving for a quote today: (201) 529-2211.