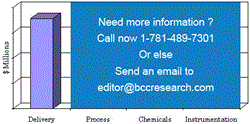 Global Market For Waste And Wastewater Treatment Products Market To Grow Nearly $96.3 Billion By 2019
Wellesley, Mass (PRWEB) December 02, 2013
According to a new technical market research report, Waste and Wastewater Treatment Technologies: Global Markets, from BCC Research (http://www.bccresearch.com), the global market for waste and wastewater treatment products is expected to reach $53 billion in 2013 and $59.2 billion in 2014. BCC Research projects the market to grow to nearly $96.3 billion by 2019, and register a five-year compound annual growth rate of 10.2% from 2014 to 2019.
Growing populations, increased demand for water by individuals and industry, and diminishing freshwater sources as a result of environmental degradation and drought have created water shortages across the world. Water treatment has become an area of global concern as individuals, communities, industries, countries, and their national institutions strive for ways to keep this essential resource available and suitable for use. Water and wastewater treatment is essential to providing and maintaining clean, safe water for drinking, daily public use, industrial processes, medicine, etc.
The ongoing water shortage crisis, increased research and development spending, and governmental regulations, as well as environmental concerns will spur significant growth in this market for the foreseeable future.
This report from BCC Research examines and provides a 2014 through 2019 forecast for 15 products essential for constructing, maintaining and operating water quality and water treatment systems in the 40 most important national markets, including process equipment products (primary treatment equipment, secondary treatment equipment, tertiary treatment equipment, and advanced treatment equipment); delivery equipment products (pipes and fittings, pumps, and valves and controls); instrumentation products (anaerobic digestion systems, activated sludge systems, nutrient removal systems, and sedimentation systems); and the WWT chemicals product group (activated carbon, aluminum sulfate, calcium hydroxide, and specialty chemicals). Both primary and secondary research methodologies were used in preparing this study. The 15 products examined in this study were selected because they are common to WWT treatment systems. While some of these products are unique to water distribution and others to the treatment of sanitary waste, most have applications in both types of plants.
This study is intended for those who require greater operational-level detail about the business opportunities in the WWT industry than is typically contained in global forecasts. In addition to providing useful information for senior executives within industries that manufacture WWT products, it will also improve the understanding of the business side of the WWT enterprise for officers in regulatory agencies and industry trade associations, international investors, attorneys, and other professional stakeholders.
BCC Research surveyed several hundred organizations to obtain data for this study. Included were major manufacturers of equipment and related products. Data were compiled from current financial and trade organizations as well as from government sources. Except for China-Taiwan, which separately provided statistical information, data pertaining to household water use and sanitary facilities were extracted from statistical information compiled by the UNICEF's international household survey initiative, the World Health Organization (WHO) World Health Survey and the World Bank, the International Monetary Fund, the Agency for International Development, the United National Environment Program, the UN Food and Agriculture Organization (FAO), the UN JSTOR data collection program and the U.S. State Department.