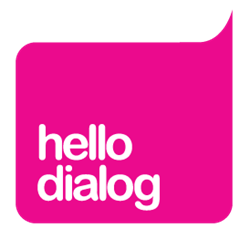 Hellodialog…for people that love results
Haarlem, The Netherlands (PRWEB) December 02, 2013
Paying for unopened newsletters is history. For years companies like MailChimp and AWeber have been offering delivery-based pricing models to their customers.
On average 78% of email newsletters remain unopened, so email marketers waste the majority of their budgets. At the same time all other online marketing channels have performance based pricing models (CPC, CPM, CPA). With Hellodialog customers only pay once subscribers open their newsletters. No start up costs or costly monthly subscriptions and the like. Pay for results only, just like AdWords.
Another pain-in-the-neck are ESP's newsletter-editors. All are cumbersome and many require an HTML-graduate to use them. That's why Hellodialog has integrated the EasyPeasyNewsletters editor: an intuitive, drag-and-drop editor, allowing users to import images and integrate videos by simply dragging them in. It's worry free: newsletters will render correctly on all major email clients, even adapting dynamically to mobile devices.
It's Hellodialog's mission to help email marketers improve their campaigns over-and-over again. The Auto-Improver provides automated suggestions for campaign enhancements while the e-commerce tracker enriches the subscriber base allowing users to target their customers with relevant offers.
It's easy and fun, and remember, users only pay for success.
Check us out at http://www.hellodialog.com
For questions please contact:
Maarten van Schalkwijk, Marketing Head +316 20 63 41 09 | maarten(at)hellodialog(dot)com
facebook.com/hellodialog
twitter.com/@hello_dialog
Hellodialog…for people that love results