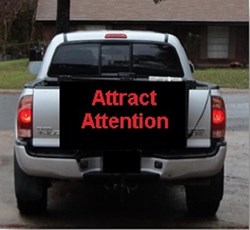 Now you can take the message where and when it's needed.
Minden, LA (PRWEB) November 30, 2013
Main Street LED Signs, LLC today announced the availability of a new mobile LED display that mounts into a standard trailer hitch receptacle and can be powered by a vehicle's inverter.
"The idea for this new product came from my background in law enforcement. I never liked directing traffic in bad weather. Its dangerous duty and it can get somebody hurt. So we wanted to offer a safer alternative - a light (35 pounds) rugged quick-deploy LED display that could be used to message the public," said Randy Rogers, owner of Main Street LED Signs, LLC.
"We've seen D.O.T. effectively use mobile LED displays to direct traffic for years. But they have the luxury of knowing time when lanes or roads are going to be closed.
That's not the case with local agencies. They have to quickly respond to varied situations – one minute a vehicle crash, flooded roadway, a house fire, Amber alerts, or some other occurrence requiring a specific message be seen by the public.
An LED display mounted on the back of a unit can roll to the scene and perform that function - all for less than $2,000. Over the expected 10 + year rated life of the LEDs; that works out to be less than $200 a year to own. Considering the cost of what might happen without one, it's well worth the investment," Rogers said.
This LED messaging solution could also be used for other purposes. "It could be used to reroute drivers around a city crew repairing a pot hole, broken water main, or doing some tree trimming. Or it could be used to attract folks to a blood drive or a high school fund raiser. You can use the MS Windows-based software package to create any message that meets your requirements. Now you can put the message where and when it's needed," said Rogers.