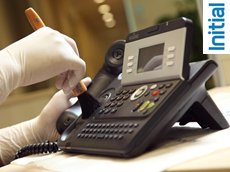 Contaminated hands can transfer germs to up to seven separate surfaces – including telephones, desks and keyboards - and germs can also live on a surface for up to 48 hours.
Cape Town, South Africa (PRWEB UK) 29 November 2013
Dr Gerba's research suggested that telephones are the number one home for office germs, followed by desks, and keyboards. People are spending more and more time at their desks, and so bacteria are finding plenty to snack on. Added to which, studies have shown that sixty per cent of all South Africans do not wash their hands with soap and water and that one in ten people do not practice hand washing after using the toilet.
When one considers that a single gram of human faeces can contain 10 million viruses and one million bacteria, it's easy to make the link between unwashed hands and bacteria-laden desks. Contaminated hands can transfer germs to up to seven separate surfaces – including telephones, desks and keyboards - and germs can also live on a surface for up to 48 hours.
"We don't think twice about eating at our desks," said Gerba, even though the average desk contains 100 times more bacteria than a kitchen table and 400 times more bacteria than a toilet. "Without proper cleaning, a small area on your desk can sustain millions of bacteria that can cause illness."
His conclusion was that in offices, common areas that are cleaned and disinfected every day have fewer germs and bacteria than most desks, and that using disinfecting wipes can reduce the number of germs and bacteria on office surfaces by up to 99%. Along with a range of hand washing and hand drying solutions for the bathroom, Initial - a leading supplier of hygiene services throughout South Africa - also offers waterless hand sanitizers and hand sanitizing wipes for those areas that do not have access to running water, and which can be used to sanitize surfaces such as desks and telephones.
In September, Initial launched a new CSI-style swab hygiene survey tool, designed to identify hygiene 'hotspots'. Initial has specifically trained a team of Hygiene Experts, located across South Africa, to better understand the different hygiene services needs of different types of organisations. They are equipped with the new diagnostic and swab testing tools – similar to those seen on the popular television programme, CSI - to evaluate the hygiene 'hotspots' around a building, including bathrooms, and office areas such as desks and telephones. Once germ hotspots have been identified, Initial creates a customised solution based on the organisation's specific needs and requirements.
Specifically tailored to tackle the issue of bacteria laden desks is Initial's specialised IT hygiene service. Specialised cleaning chemicals and cleaning equipment are used to deep clean and disinfect office equipment and help prevent the cross infection from bacteria- laden workspaces.
Recent research suggests that 1 in 6 people have required a sick day from work as a result of poor work place hygiene. This equates to a huge cost implication for many businesses, and means that promoting good occupational hygiene practices also makes good business sense. "Good hygiene can improve employee morale, productivity and profits. It can delight customers and improve reputation. Equally, poor hygiene can destroy reputations and profits," said David Lewis, MD of Rentokil Initial in South Africa.
About Initial Hygiene Services
Initial Hygiene is one of the leading hygiene solutions companies in South Africa. It provides innovative and environmentally responsible bathroom hygiene services solutions to large and small organisations across a range of business sectors including public administrations and schools, food and drink manufacturing, hospitality and leisure, medical and paramedical, construction, retail, services and transportation.
The range of Initial's Bathroom Hygiene services and supplies includes:

Hand washing and hand drying products and services
Feminine hygiene sanitary bins and sanitary waste disposal services
Bathroom hygiene products which include urinal, toilet hygiene and deep cleaning services
For a more information Initial's services, or to arrange for a free hygiene services survey of your business, contact Rentokil Initial on 0800 77 77 88.
About Rentokil-Initial:
The Rentokil Initial group specialise in pest control, hygiene services and interior landscaping for businesses across the globe. Using leading-edge, environmentally-friendly technology, their experts deliver a wide range of tailored services to businesses of all kinds. Rentokil Initial South Africa has operations in all major business centres across the country.