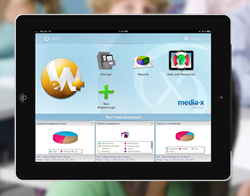 The whole company has been a bit of a pressure cooker over the past couple of years.
(PRWEB) November 28, 2013
Steve Moretti can't sit still these days. Media-X Systems Inc. is at the end of a very long and busy period of application development and now is finally ready to reveal what it has been working on so hard the past 18 months.
"It really has been a bit surreal lately, " says Steve Moretti, President/CEO of Media-X. "The whole company has been a bit of a pressure cooker over the past couple of years. It's been very hard trying to pick out the very best ideas and features. When we started down this road, it seemed like we'd never finish. There have been so many things competing for our attention at once, so many good ideas. I'm really proud of what we've managed to come up with."
The application has launched to very favorable reviews so far among some of eWalk's most dedicated users.
"If you are familiar with eWalk, I think you will be right at home with eWalkPLUS," says Paul Shuster, VP of training for Media-X. "We've tried hard to keep a lot of the conventions found in eWalk, the same in eWalkPLUS. It makes my job easier and let's us concentrate our time training on the features."
In addition to powering mobile walkthroughs on mobile devices, eWalkPLUS now comes with a full staff evaluation module which can be customized and built from the ground up by the end user.
"We've believed for a long time that the end user should have all the tools available to them to build whatever they want for themselves," said Rob Campbell, Implementation Specialist. "I can sit down and build an entire evaluation system in an afternoon with eWalkPLUS, observation forms, self-assessments, peer evaluation forms, you name it. Before this all had to be developed by a programmer here in house, now I can do it all."
eWalkPLUS also comes with a built in survey tool called "Go2MX"; it allows you to take any form in the system and make it available as an online form.
"We see Go2MX as being a very convenient tool for a lot of schools. If you need to survey your parents or collect opinions from staff, with a couple of clicks you can turn any form into a publicly facing data gathering tool," said Steve Moretti. "A lot of what we've done here has never been attempted before, this is doubly true for all the work that we've put into our video module."
Also included with eWalkPLUS is an entirely new concept from Media-X, called "iCoach". This is a video tool that is included with every eWalkPLUS account. Staff can record themselves while on the job using a mobile phone or webcam and then upload those videos to their eWalkPLUS account. They can then send those videos out to anyone they like and get feedback.
"The feedback section in iCoach is really the core of the application," said Eric Marleau senior developer at Media-X. "You can add comments to any portion of the video timeline and then snap back to that exact moment of video when you are reviewing your notes. Better still, you can attach any eWalk form to a video and have the reviewer give you exactly the answers you specify. We have a lot of users building rubrics in eWalk forms for just this purpose."
Media-X has also released a new mobile companion with the launch of eWalkPLUS, specific to the iPad. eWalk 2.0 now gives users a custom dashboard reporting tool on their tablet and the ability to move forms both up and down from the cloud, something they've never been able to do before."
"We were surprised at the reception the new mobile client has gotten," says Robert McGregor, Marketing Manager. "It seems that a lot of the time in schools, users are busy and can't always finish a form in one session. They really appreciate being able download a partially completed form and resume their work while on the go. I would not have guessed how much demand there was out there for this feature."
Media-X is on the road this year introducing eWalkPLUS to North America and will be attending FETC in the new year to give people a chance to try eWalkPLUS hands on.
What does the future hold?
"If 2013 is any indication, next year is going to be very exciting," said Steve Moretti. "We've gotten a lot of great feedback so far about eWalkPLUS and we feel we are far ahead of the curve, our job now is to stay out there."