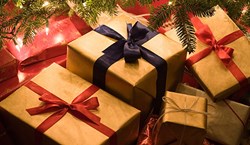 (PRWEB UK) 29 November 2013
With the Christmas period arriving, the inevitable secret Santa sweepstakes will start. Often it can be quite hard finding the presents to give out so Paramount Zone have helped out by providing their top 5 Secret Santa Gift Ideas.
The product team at Paramount Zone have worked tirelessly since last Christmas to provide the best secret Santa gifts available. Below are the top 5 they have found.
Robofish:
This innovative new toy is great for people who want fish but don't have the time to look after them. Just add to a bowl and they swim around just like real fish with no feeding required.
Induction Speaker:
New in for this Christmas this clever speaker is small enough and light enough to be carried around with you yet still delivers a solid sound. Using induction technology just place your Smartphone on the platform and play the music and the speaker does the rest, no cables require.
Pink Monkey Flash Drive:
This cute little flash drive is a indispensible piece of kit for anyone looking to transfer information. With its fun pink monkey design it's a great secret Santa gift for the tech savvy office colleague.
Executive Sling Shot:
In a busy, stressful work environment it's always handy to let off steam so providing this Executive Sling Shot as a secret Santa gift will be received well. The slingshot comes supplied with 3 rubber balls designed to hit your target without causing injury.
Diamante Mouse & Pen Gift Pack:
For people who like bright and sparkly objects this is the ideal Secret Santa gift for your office friend. The mini scroll mouse is compatible with both Windows and Pac's and can be collected via any spare USB Port.
The website Paramountzone.com was started by founder James Morris in 1999 and has seen rapid growth over recent years due to an affordable range of fun gadgets and gifts. With a priority on originality, the Paramount Zone buying team search far and wide to bring the most innovative gifts and toys to customers.
For more fun Christmas Gift Ideas check out Paramountzone.com