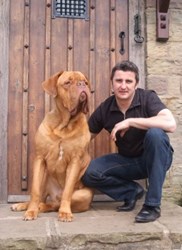 I started feeding Milo hypoallergenic dog food and within a few days his condition had improved.
Bolton, Lancashire (PRWEB) November 29, 2013
Stephen started Heights Farm Premium Pet Foods in May 2009.
Heights Farm sells a range of quality pet products both locally and nationally.
Specialising in wheat free dog food and hypoallergenic dog food, Heights was founded after Mr. Ward's dog (Milo) became ill.
"Milo, my French Mastif was constantly scratching his skin and roaming around the house at night unable to settle" explained Stephen.
"I took him to my vet and they recommended a dog food for large breed puppies" he added.
"Milo's condition worsened, so I began to research his symptoms and discovered he was allergic to wheat. The food the vets recommended had high wheat content" said Mr. Ward.
"I started feeding Milo hypoallergenic dog food and within a few days his condition had improved" added the pet food supplier.
This knowledge gave Stephen the idea and inspiration to set up his own hypoallergenic dog food business and he scoured England for wheat free dog food suppliers.
After a few months searching he found the ideal supplier and began his gluten free dog food business.
In just over three and a half years Heights has become a major retailer of hypoallergenic dog foods.
Stephen's tips are:
1. Every dog needs a 'den'
The dog will feel happier, secure and more comfortable with its own space and an area it can call its 'den'.
"I would recommend a bed with sides and make sure it is positioned in a warm area and away from drafts. Fill the bed with blankets and rubber toys (which will keep the dog occupied)" advises the gluten free dog food supplier.
"Providing a dog with a den means that there is less chance it will go wandering at night" he added.
2. Water
Water is vital to a dog's health and should be changed at least twice a day.
Place the bowl in the same spot and somewhere it won't get knocked over.
Keep a careful eye on the amount of water the dog drinks.
"A dog which is constantly thirsty (or doesn't drink enough) could have health problems. I would visit your vet if you think this is the case" recommends Stephen.
3. Food
"There are lots of foods on the market (of varying quality). Check the ingredients and be sure that the main ingredient is meat (or fish) and that grain or harmful additives aren't present. After my research I discovered many of the 'known' brands contained damaging chemicals" advises Stephen.
"I would always recommend a gluten free dog food even if you think your dog is allergy free" added Mr. Ward.
Check your dog's weight and age to be sure of which variety to choose.
"Some deep chested dogs can suffer from a condition called Bloat. Mix warm water with dried dog food (if it is grain free) and leave enough time for the food to soak up the water before serving" recommends Stephen.
4. Stay slim
Dogs which are overweight can suffer from several problems including diabetes and heart disease.
Stephen advises "As a guide (because it is different for every breed) you should be able to see your dog's ribs but they shouldn't be too obvious".
If the dog is over weight then begin to reduce the food you give them and gradually increase the amount of exercise.
Allow for treats or scraps as this will also affect the dog's weight.
5. Exercise
"Just as it is with humans dogs need regular exercise, not only will it keep them fit but their state of mind will be better for it too. Remember to allow at least an hour before or after exercise before feeding to avoid Bloat" recommends Mr. Ward.
Dogs which are not exercised regularly can become aggressive, bored and develop mental health problems.
6. The leader of the pack
Dogs are social (and pack animals) and shouldn't be left on their own for long periods.
A dog will always look to the leader of the pack (which should be you); it is a mistake to confuse it with having totally human feelings.
Dogs need to play and to socialise.
Playing with a dog for just a short period each day will help meet their social needs.
7. Vets and treatments
Ask other dog owners about vets and who they recommend.
Give the dog a treat before and after visiting the vet and make a fuss over them afterwards.
This will make each visit to the vet easier and less stressful.
Keep the dog's vaccinations up to date, go for a check-up at least once a year and use flea and worm treatments.
Take care of the dog's teeth with suitable dental chews and brush regularly with dog toothpaste.
Regular washing and grooming are both equally important to a dog's health and well being.
8. "Heel!"
"I would visit a local puppy training class as training your dog when it is young is much easier than trying to break bad habits later. Recall is the hardest thing to teach but one of the most important commands" advises Stephen.
He added "I find the best way to teach recall is to use treats or if your dog isn't responsive to food then making a lot of fuss over them (once they get it right) usually works. Ask your dog to stay and walk a few yards away, then in a commanding voice say 'come' and when they do, reward with a treat, play or both".
Repeat this each day gradually increasing the distance.
"Keeping your dog on your 'heel' can be quite tricky too. Keep a treat in your hand (and by your leg) as you walk your dog on its lead. Reward the dog each time it 'heels' correctly which should be a few inches behind you" recommends Stephen.
9. Keep him occupied
Dogs like to have things to do and feel that they are an important member of the pack, throwing sticks and playing with balls will help them feel valued and secure.
Always praise the dog after every task is completed successfully.
10. Affection
Show the dog lots of affection, stroking and grooming will strengthen the bond between owner and dog.
Just like play this will help the dog feel secure and wanted.