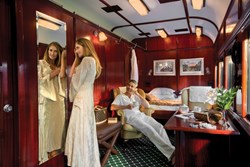 2014 trips are selling out on both the Golden Eagle and Pride of Africa - they are very popular - so we are publicising 2015 details.
Chippenham, Wiltshire, UK (PRWEB UK) 29 November 2013
The Luxury Train Club is announcing dates and rates for 2015 on the Golden Eagle in Russia and Rovos Rail's Pride of Africa since many of their 2014 journeys are selling out; the clear message is plan early to travel wisely.
The Luxury Train Club features over 30 luxury trains around the world, on every continent that has railways.
Members of the Luxury Train Club benefit from discount off Rovos Rail Pride of Africa and Golden Eagle journeys and every other trip or tour listed on the Club website. Membership is free, by subscription to the Club newsletter.
The Pride of Africa operates very special train tours throughout southern Africa, an harmonious blend of earthy African safari and traditional luxury. The Luxury Train Club now reveals the 2015 trip programme for those who can plan ahead.
Golden Eagle operates the legendary Trans-Siberian Express, crossing eight time zones in a leisurely two weeks, taking in the varied cultures and cuisines on the way. It is likely that much of the 2014 capacity on the Moscow – Vladivostok route will shortly be sold out. The Luxury Train Club offers 2015 availability.
Simon Pielow, Concierge at the Luxury Train Club, says "Both the Golden Eagle and Pride of Africa carry fewer than a hundred passengers in luxury on fascinating tours; this explains why the 2014 tours are selling out and why we must publicise 2015 details."
About the Luxury Train Club:
Contact: Simon Pielow, http://www.luxurytrainclub.com, infoATluxurytrainclub.com, +44 (0)1249 890 205
The Club gives the public rates on all listed trains, and then reduces them by applying a 'Member Special' 2.5% discount on every journey, as well as passing on any available offer from the train. The Club also shows appreciation for every booking with a thank-you gift.
The Club website has details of offers from trains around the world, including Early Bird Booking Offers, some specifically for Members.
Member Benefits
Discounts:

2.5% discount off the price of any journey on the Club website
Club discounts are in addition to all offers available from the train companies.
Thank You Gift – the Club values every booking made by a member, sending a thank-you gift, which varies from time to time, to the leading passenger for every reservation. Current gifts include one of the following:

Gift from Osprey London, something from their range of small leather goods.
Gift from Noble Isles, a travel item from their range of bath and body products.