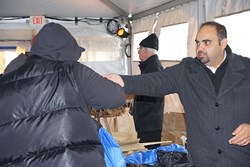 Camden, NJ (PRWEB) November 28, 2013
The GI Go Fund, a nonprofit organization that has helped thousands of veterans in need connect to employment and housing opportunities, participated in the Battleship New Jersey's Thanksgiving Day Meal for Homeless Veterans and Active Duty Personnel by providing the current and former military personnel in need with over 500 care packages of nonperishable food items, clothing, and hygiene supplies.
The Battleship New Jersey, in partnership with Camden County Veterans Affairs and the Camden County Board of Chosen Freeholders, offered homeless veterans and active military personnel from Joint Base – McGuire-Dix-Lakehurst and Dover Air Force Base a full-course turkey dinner on Thanksgiving. The meal was served by dozens of volunteers in the Battleship's crew's onboard cafeteria.
Since its founding, the GI Go Fund has been committed to helping veterans and military personnel with finding jobs, receiving benefits, and getting off the streets. For the homeless population, the organization provides care packages to homeless vets during their Midnight Missions, where teams of GI Go volunteers go out before dawn around the state to provide vets with food and clothing, as well as emergency medical assistance, VA benefits counseling, and housing opportunities. The group also hosts an annual Stand Down in Newark to provide homeless veterans with food, clothing, haircuts, medical screenings, and legal aid.
"We are so happy and proud to be part of this incredible event," said GI Go Fund Executive Director Jack Fanous. "Our largest priority, both as an organization and as Americans, is to do everything we can to ensure that our veterans who once fought to defend our streets never live on them. This event is so great at bringing the community of South Jersey together and doing our part to make the men and women who served or are serving feel like family on Thanksgiving. It is an incredible event, and we want to make sure that these veterans and their loved ones get all of the love and support we can offer them. Many of these veterans are men and women whom I have never met, but they are the most beloved members of my extended American family."
The care package materials include countless articles of clothing once belonging to the late Senator Frank Lautenberg, who also was a military veteran who served during World War II. The clothing was generously provided to the organization by the family of the late Senator so it may be provided to veterans in need. In addition, many of the care packages were assembled with the assistance of New Jersey's newest Senator, Cory A. Booker, who developed them as part of a volunteer effort with dozens of Newark area school children on the anniversary of September 11, just prior to his departure as Mayor of Newark.
Additional sponsors included JWV Post 126, The Spevak Family, US Family Health Plan, Barb's Harley Davidson, Philadelphia 76ers, Bodek & Rhoads, David Fleisher and Family, Gary "G" Cobb, PJ Whelihan's, South Jersey Magazine, Volunteers of America, Comprehensive Screening Solutions, Andreotti's Catering and Balloon Celebrations.