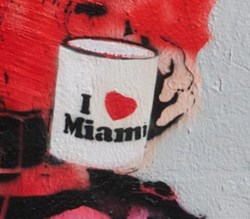 Bambi loves Miami.
Miami, FL (PRWEB) November 29, 2013
One of the most prominent, yet anonymous female street artists in the world traveled to Miami to share her distinctive art on a wall of the empty lot that will be transformed into "The Art Garden" by Israeli-French artist Idan Zareski in collaboration with Markowicz Fine Art, during Art Basel Week.
Bambi Artist's mural supports Zareski's public art exhibit blending with his "Big Foot Family" series' message of peace and tolerance, with a unique version of her "Make Tea Not War" art piece that she has previously shared in the streets of London. The multicolour oversized mural shows the image of a "granny" holding a teapot, escorted by four "American Elvis", two holding tea cups and two holding a gun. "I am excited and grateful for this collaboration with Bambi; I can't think of a better fit for our installation and the message we spread worldwide," said Idan Zareski, who is currently in Costa Rica, after receiving the photos with the finished mural.
The newly created piece of art is located on one of the walls of the 92 NE 40th Street lot, in the heart of the Miami Design District. Such lot will soon be transformed into a public installation of monumental sculptures during Art Basel Week. "The Art Garden" will showcase 3 pieces from the "Big Foot Family" series by Idan Zareski. Currently fenced, the lot will be opened on Tuesday, December 3rd for a private opening event, and from Dec. 4th through 31st it will be open to the public.
"I've had loads of fun in the sexy Miami sun, sprayed some much needed colour on an unloved old grey wall. I've surprised myself with the vibrant colours I spontaneously used - probably sick of the grey sky of London. The quintessential British granny is wearing her best summer dress and a big smile - a playful image with handsome American Elvis towering protectively over her," said Bambi Artist via e-mail to Bernard Markowicz, owner of Markowicz Fine Art, her exclusive agent in South Florida. "But the 'Make Tea Not War' title of this piece has a much darker message. Two Elvises have abandoned their guns in favour of granny's cups of tea; the other two however remain macho, armed, and extremely dangerous. The Second Amendment 'The Right To Bear Arms'….Really???" Bambi concluded in her message.
About Bambi Artist
Bambi, whose name is a shorter version of her father's childhood nickname for her, "Bambino", has been painting street art in the North London suburb of Islington for years. During this time, she has gained a claim to fame by stenciling and spray-painting, highly visible and public murals of both everyday people and celebrities such as Prince William and Kate Middleton, Queen Elizabeth II and Amy Winehouse. Her art is a reflection of current events or icons of modern times, including secret agent, James Bond, played by Daniel Craig and soccer superstar, David Beckham. Some of her collectors include Angelina Jolie, her husband actor Brad Pitt and singers Rihanna and Adele. Bambi was even commissioned by model Kate Moss to paint a personal street art portrait of her, similar to Andy Warhol's classic "Marilyn". Bambi has never revealed her identity, but admitted having a prominent career in the music business as a singer. Some say she is M.I.A., Paloma Faith or Geri Halliwell, but no one really knows.
Details : http://www.markowiczfineart.com/News-Detail.cfm?NewsID=100