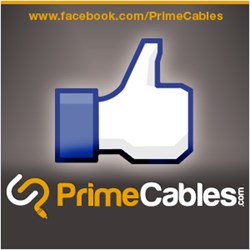 (PRWEB) December 02, 2013
PrimeCables.com, a wholesaler and a retailer of custom cables and accessories for home theater, networking, professional studios, and more just got even better. The company has added a new feature called CableFinder, an on-demand cabling connectivity expert. Users can choose their first and second device connector quickly and easily using this feature that enables them to select their device as well as the device port.
For those who cannot find their device, http://www.primecables.com/finder also provides a 'Visual all port' feature that does exactly what it says; it lists the various ports across different devices if the user is not too confident about their selection. All that one needs to do to discover a cable solution for their device is selection an appropriate option from the list displayed in the dropdown menu of the CableFinder webpage.
A representative of the company says, "While PrimeCables.com specializes in HDMI Cables and other Audio Video, our website is primarily geared towards making the online shopping experience for cable accessories fun, hassle-free, and easier to handle. We hope that the new CableFinder feature is a big step in this direction."
PrimeCables.com offers customers a wide range of premium quality cable products with the cheapest price and variety in town. They deliver remanufactured cables, adapters, USB cables, and cable accessories from both their Montreal and Vancouver warehouses. A year ago, the company moved to a 6000 square-foot warehouse/showroom where they implement a new automated and computerized order processing system to insure accuracy and efficiency.
They offer a broad selection of products from legacy to latest to ensure customers have access to the parts they need. Canadians who buy all the cables and accessories from PrimeCables.com can enjoy cost benefits of up to 75% along with a lifetime warranty on most of the products.
About PrimeCables.com:
PrimeCables.com specializes in HDMI Cables and other Audio Video Accessories. They offer a variety of products such as Network Cat 5, Cat 6& Cat7, HDMI, SVGA, DVI, USB, FireWire, Fiber Optic, Security, Computer, Apple, and Audio cables as well as Speakers, Cable Testers and Organizers, and wall plates. Available directly to consumers and to resellers, they have a large volume of products in stock ready to be shipped at any minute throughout the Canada and USA because of their business relationship with Canada Post and Purolator. These services guarantee the same day shipment (for orders placed before 1 p.m. EST) and prompt delivery to all their customers.