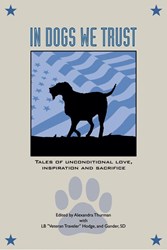 We're humbled to be a part of this, and hope that the book brings greater awareness of Veteran's health issues and a major surge in service dog placements. - Anthony Bennie
Wilton, CT (PRWEB) November 30, 2013
Clear Conscience Pet is a small company with a big mission: educating the public to separate truth from hype in the pet food business for the betterment of companion animals. Now the company has joined forces with Gander, a famous and widely followed service dog, and his human partner to aid Veteran and Dog Rescue causes. The result is a new book that would be a heartwarming holiday gift for any dog lover.
A limited release autographed Christmas edition of In Dogs We Trust can be ordered through this link. The book was compiled by "Veteran Traveler" Lon Hodge with inspiration from his award winning service dog Gander. The book was initially released as an E-book in early November, and has garnered excellent reviews from readers with a "4.9 out of 5" star average on Amazon's Kindle store. Now the book is being released in hardcover with even more internationally recognized authors and stories, and it is available for ordering just in time for the holiday gifting season.
This book shares heartwarming and inspiring stories from several bestselling authors, and includes a piece by Clear Conscience Pet Founder Bennie called "Taylor Bay: Potcake from Paradise," a true story about adopting a rescue dog from a Caribbean island. The recurring theme of the book is the deeply spiritual bond between humans and canines, powerfully expressed from many points of view and situations.
Other contributing authors include: "Dog Whisperer" Paul Hughes, The Other End of the Leash author Patricia McConnell, Trident Canine Warriors author Mike Ritland, Merle's Door Author Ted Kerasote, Big in China author Alan Paul, and many more. All authors donated their stories for the anthology.
All proceeds from the book are going to the Lt. Michael Murphy Scholarship Fund, National Mill Dog Rescue, LZ Grace Veterans Retreat, and Freedom Service Dogs. For every purchase of the book, Clear Conscience Pet is offering a $10 gift coupon code that customers can apply towards any $30 or more purchase of Clear Conscience Pet's award-winning nutritional treats and SuperGravy holistic food topper. "When Lon Hodge asked to publish my story, I was deeply honored and excited," said Bennie. "But when I learned more about Lonnie and Gander, and their goal of partnering a properly trained service dog with every veteran that needs one, I knew that we needed to do more than just publish my story. We're humbled to be a part of this and hope that the book becomes a huge bestseller, with the ultimate success being greater awareness of Veteran's issues and a major surge in service dog placements."
---
About Clear Conscience Pet®, LLC
Clear Conscience Pet® is a multiple award winning pet nutrition company that developed the Sliders® treat line, the SuperGravy® line of pet food enhancing gravies, OSV™ nutrient enhanced treats and chews, and Cruncherz™ Organic Gluten & Grain-Free Dog Biscuits. The company is based in Wilton, Connecticut and is family-owned by Founders Anthony Bennie and Amanda Malone Bennie. They currently market their pet food products to pet supply retailers, veterinarians, health food stores, and other pet specialty outlets.
Web Address: http://www.clearconsciencepet.com
Facebook page: http://www.facebook.com/Clear.Conscience.Pet.LLC
Twitter: http://twitter.com/ccpettreats