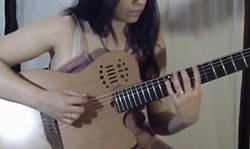 (PRWEB) November 29, 2013
In this lead guitar lesson, now available on YouTube.com, Alejandra Mesliuk teaches how to play the solo from Don't Speak by No Doubt. This solo is in the key of C minor and is composed of the techniques of slides, hammer-on's, pull-off's, and sweeps and is based in the natural minor scale and some arpeggios. This solo is very melodic and has a good blend of scale phrases and arpeggio sweeps that fit the context of the song well. Alejandra demonstrates the solo at tempo over a backing track and then slows it down and breaks it up into sections so you can catch all of the details and techniques of this solo. The arpeggio sweeps featured in this lead guitar lesson are very easy and great for the aspiring novice of this technique. Guitar TAB's for this video lesson are available at GuitarControl.com.
No Doubt was formed in Anaheim California in 1986 and is known for there vocalist, Gwen Stefani. Their self-titled first album's Ska sound did not do well in album sales. There second effort, The Beacon Street Collection, was released independently in 1995 and sold over 100,000 copies to help launch there career. Their follow-up album Tragic Kingdom helped launch the Ska revival of the 1990's and there single from that album, Don't Speak, set a record by spending 16 weeks on the number one spot of Billboard Hot 100 Airplay charts. No Doubt has sold over 33 million albums world wide.
Alejandra Mesliuk
Alejandra Mesliuk is from Buenos Aires Argentina. She studied jazz guitar harmony and under the method in Temperley Berklee School of Music by Ariel Ferreyrola. She has been an area teacher and clinician for the last 10 years in electric guitar, classical, and musical language. She is currently working on a solo album.
About GuitarControl.com
GuitarControl.com is the leader in modern guitar instruction. It's packed with recourses including articles, video lessons, and the best videos in the business for the beginner to the advanced guitar student taught by the best instructors out there. Whether you are into the blues, rock, jazz, metal, folk, or anything in between, they have you covered.