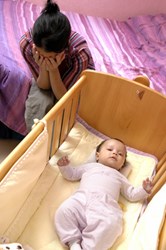 When mothers are valued and supported, we are more successful in all areas of our lives
Amarillo, Texas (PRWEB) November 30, 2013
Praeclarus Press and the Simkin Center at Bastyr University are co-sponsoring a new webinar, "Who Will Catch Me?," the MotherWoman Perinatal Support Group Model to help prevent postpartum depression. The MotherWoman model supports and empowers mothers to create personal and social change by building community safety nets, impacting family policy and promoting the leadership and resilience of mothers. The webinar will be presented by Annette Cycon, LICSW and Liz Friedman, MFA.
The MotherWoman philosophy believes that:
"Mothers are powerful. Together we can change the world. When mothers are valued and supported, we are more successful in all areas of our lives, benefiting our children, families and communities. Creating communities of genuine respect and non-judgment for all mothers increases our collective power. Laws and policies that support families benefit everyone."
In this webinar participants will learn about the many ways in which perinatal support groups are an effective treatment modality for mothers who are struggling in the perinatal period. They will also learn the basic components of the MotherWoman Group Model© based on the principles of SEE: Safety, Education and Empowerment. Learn how support groups can transform the lives of mothers and provide essential protection from the inevitable challenges of motherhood.
Annette Cycon, LICSW is the Founder and Director of Training of MotherWoman. She has designed and led MotherWoman groups for over 10 years, and, with Liz Friedman, has designed and leads the MotherWoman Facilitator Training. Cycon holds a Bachelors degree cum laude in Psychology and Philosophy from Clark University and a Masters degree in Social Work from Catholic University. She has been a clinical social worker specializing in child and family issues, women's issues, trauma and recovery, and facilitated the Women Survivors of Childhood Sexual Abuse support group at the Everywoman's Center at UMass.
Liz became a mother in 2002 and experienced a severe postpartum emotional crisis. Liz founded the Postpartum Support Initiative of MotherWoman in 2004, and with Annette Cycon, transformed the MotherWoman Support Group Model into a powerful tool for mothers with postpartum emotional complications. Annette and Liz developed the MotherWoman Facilitator Training to train professionals and lay leaders in how to run successful MotherWoman groups. Liz was instrumental in bringing the issue of postpartum depression to Representative Ellen Story (MA State House, Amherst) and was invited to join in drafting Postpartum Legislation in MA. Liz was an outspoken advocate on behalf of this legislation and in August 2010, the postpartum depression Legislation was signed into law.
Praeclarus Press is a small press dedicated to women's health based in Amarillo, Texas, founded by health psychologist, Kathleen Kendall-Tackett. We offer books, e-books, webinars, white papers, and artwork, all designed to educate providers and empower women to take control of their health.
Sign up today for reserve your spot to attend this live webinar December 9, 2013 1:00 p.m. EST.