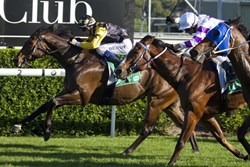 "Medivet's MPTS360 is the superior mask for Nebulising horses with Autologous Conditioned Serum and other Products as it combines one-way valves and a tight seal on the nose which eliminates wastage of Products" - Dr David Evans PhD
(PRWEB) November 29, 2013
Territory, a 6yr old gelding suffered Exercise Induced Pulmonary Haemorrhage (EIPH) in 2012. Both Trainer and Veterinary recommendation was to retire Territory and find him a caring home due to the severity of his haemorrhage.
Within a few weeks of bleeding, Territory commenced a revolutionary regenerative Technology developed by Medivet Pty Ltd, Autologous Conditioned Serum (ACS). ACS involves the isolating and extracting of Interleukin Receptor's 1 and 10 in addition to other repair and regenerative cells from 500mls of blood at Medivet's state-of-the-art Laboratory in Sydney, Australia. While ACS has been available for elite horses through intravenous and intra-articular administration, in 2013 after extensive Research & Development, Medivet released the world's first patented complete training and medical delivery system for horses, the Multi-Purpose Training System (MPTS360). Visit http://www.MPTS360 for more information.
The MPTS360 features breakthrough dual-nebulisation Technology through both Jet and Ultrasonic Nebulisation and studies with Australia's leading University confirmed the MPTS360 Nebuliser Technology is 500% more effective than any nebuliser available in the world today. The state-of-the-art unit also possesses Oxygen Therapy and Altitude Training simulation features and it patented technology around the world.
Territory's maintenance program involved delivery of ACS via the Jet Nebuliser with Oxygen as the power source three times per week. After six weeks on the program, Territory was sent to the University of Sydney to undergo a scope on his airways. The test was overseen by Professor Andrew Dart BVSc, PhD, Dip ACVS, Dip ECVS who commented after Territory finished on the treatment program with the MPTS360 and ACS Technology that "Territory showed no signs of bleeding at all". Territory then went onto the treadmill at the University using the MPTS360 and underwent Altitude Training (Hypoxic Training) where the MPTS360 and the horse performed remarkably well. The regenerative and anti-inflammatory effects of ACS delivered through a nebuliser lead the way in bringing Territory back to his best form to date and left not a spec of blood or scar tissue in the lungs from previous bleeding. In addition to the Nebuliser administration of ACS, Territory was also put on the Performance Program which involved delivery of ACS intravenously three times per week while in work and racing. The Technology is completely drug free and is autologous.
Mr Garry Andrews, Medivet's International Business Development Manager said "This is a huge breakthrough for the horse racing industry. The development team worked for over 12 months to design the MPTS360. It is Medivet's goal to allow horses to perform for longer and be healthier which is great for owners, trainers and the racing authorities".
In his first preparation Territory ran in a tough field at Warwick Farm and finished 2nd to Sessions with both horses breaking the track record. After several placing's in town Territory continued on Medivet's treatments for his first-up on his second preparation with no signs of bleeding or Inflammatory Airways Disease (IAD). Through the administration of ACS via the MPTS360 Jet Nebuliser using Oxygen, Medivet's Technology has shown all around the world to be highly effective in the treatment of EIPH and IAD.
Territory returned from a long spell and was first up at Royal Randwick Racecourse in an 1150m Benchmark 85 race on Saturday 23rd November against tough company. Sitting third last at the turn and straightening up at the 250m mark, Territory let down and flashed home to win by a half-length, setting a new class record in the process. The race replay can be viewed at https://www.youtube.com/watch?v=I2e6fN2Geug
This result is a huge testament to Medivet's MPTS360 and ACS Technology and can be credited with turning Territory around from the verge of retirement to a winner back at the track. Territory continues to remain on both maintenance programs involving intravenous and nebulisation administration and will back up again at Royal Randwick on the 7th December in another top class race.
Dr David Evans PhD BVSc, world renowned Veterinarian and elite Equine Sports Scientist said "Medivet's MPTS360 is a superior mask for Nebulising horses with Autologous Conditioned Serum and other Products/Therapies because it combines one-way valves and a tight seal on the nose which eliminates wastage of Products/Medications".