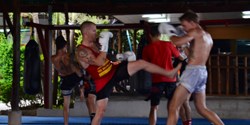 "Jon has worked hard to get where he is. I have no doubt that, at the pace he is going, we will see him in the big show very soon!"- Aungla NSang, Professional Fighter
Ellicott CIty, MD (PRWEB) November 29, 2013
Baltimore area Mixed Martial Arts (MMA) fighter, Jon Delburgge, has signed to fight Jared Gordon at CFFC 31 on February 8, 2014. The fight, Delbrugge's fifth professional bout, will take place at the Borgata Casino in Atlantic City, New Jersey.
Jon Delbrugge of Crazy 88 Brazilian Jiu-Jitsu has long been one of the top Brazilian Jiu-Jitsu (BJJ) and Mixed Martial Arts (MMA) competitors in the Baltimore area. This past week he has signed to fight in his fifth professional MMA fight against Jared Gordon in CFFC (Cage Fury Fighting Championships) 31. The fight will take place on February 8, 2014, and will be held at the Borgata Casino in Atlantic City, New Jersey.
Cage Fury Fighting Championships serves as the East coast's top MMA promotion. Many of the competitors who fight in CFFC go on to fight in the Ultimate Fighting Championship (UFC), which is the highest level of MMA competition in the world. It even hosts some fighters who have previously competed in the UFC, and on The Ultimate Fighter television show. The fights are broadcast live on Comcast Sportsnet, as well as an online feed through GFL Entertainment. This makes Delbrugge's opportunity to compete in CFFC a very valuable one.
Jon Delbrugge has been training and competing in MMA and BJJ for over five years. Holding a brown belt under Master Julius Park, Delbrugge is highly credentialed in the world of BJJ. He has won and placed at international competitions including the Brazilian Nationals, and the European Open. He has also spent over a month and a half total training Muay Thai kickboxing in the sport's native country, Thailand. In MMA, he currently has a record of three wins and one losses. His opponent, Jared Gordon, is an MMA fighter from New York with a record of three wins and zero losses, making this a very competitively matched fight.
Delbrugge keeps himself busy training four to six hours a day, as well as running his own MMA facility in Owings Mills. Many fighters and competitors would have a tough time doing both simultaneously, but Jon has taken his roles in stride. Jon's ultimate goal is to fight in the UFC, and he has worked diligently to get himself closer and closer. Training partner and fellow professional MMA fighter, Aung La Nsang said, "Jon has worked hard to get where he is. I have no doubt that, at the pace he is going, we will see him in the big show very soon!"
For the best Martial Arts training in Howard County MD, please contact:
Crazy 88 – Elkridge
7024 Troy Hill Dr, Suite L
Elkridge, MD 21075
443-283-1450
or visit http://www.BaltimoreMixedMartialArts.com
For information on training in Baltimore County, please contact:
Crazy 88 - Owings Mills
5 Easter Ct, Suite E
Owings Mills, MD 21117
410-999-1064
or visit http://www.Baltimore-MMA.com