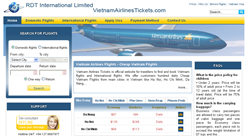 Book flights to Europe, Asia, Australia, America and domestic Vietnam using our online booking facility and get your ticket instantly to your registered email!
Hanoi, Vietnam (PRWEB) November 30, 2013
Vietnam Airlines is an international standard airline archiving prestigious certificate of safety issued by IATA and is a member of International Airlines Association. The airline has become one of the most prestigious airlines in Asia with world wide networks, professional services and modern airplanes.
In 2013, Vietnam Airlines opened more and more both domestic and international flight to and from Vietnam. New routes Ho Chi Minh – Thanh Hoa, Hanoi – Chu Lai, Hanoi – Vinh and the reopening of Phu Bai International Airport in Hue are great efforts of Vietnam Airlines to respond to the increasing need of traveling among the areas. Besides traditional routes to cities around the world, new international flights are also opened to serve foreign travelers to get directly to attractive destinations of Vietnam.
In early 2013, to offer Russian and foreign tourists flying from Moscow to Nha Trang and many famous places in the North – South of Vietnam without connecting flights or transit in Ho Chi Minh City, Vietnam Airlines has opened the route Moscow - Nha Trang. Da Nang - Seoul (South Korea) and Da Nang - Siem Reap (Cambodia) are the second and third new international routes put into operation this year by Vietnam Airlines. Direct flights from Da Lat to Singapore will create a big opportunity and great incentives for local businesses to increase commercial and investment cooperation.
Big promotions are always offers to dear customers of Vietnam Airline. Beside Golden Lotus Plus Program on Free Tickets, Privileged Service and Remarkable Convenience, Vietnam Airlines continues to implement SkyPriority, a series of distinctively branded priority airport services offered to Elite Plus, First and Business Class customers. Accordingly, passengers in Business Class, Platinum membership tier of Golden Lotus Program and Elite Plus of SkyTeam can use this priority service in the flights Vietnam Airlines exploited in foreign airports. Vietnam Airlines also have big discounts on tickets on special occasions such as Tet Holiday, Independence Day, Summer Holiday, ect.
Another important part in efforts to serve customers of Vietnam Airlines is the innovation in its system. Vietnam Airlines has been using ACSI (Check in System International Airport), a system of Sabre since 2009. However, this system did not integrate fully functions such as check-in online and direct load calculation. So the airline decided to move to SSCI system (Sabre Sonic Check - in) which allows the online procedures (web check-in) and direct load calculation to improve air service. This has helped to enhance the quality and efficiency of medium and long-haul routes Vietnam Airlines and other members in the SkyeTeam.
Travelers can visit VietnamAirlinesTickets.com to book an air ticket for such flights. Travelers can easily find all classes at the best prices and get full information on that flight. Furthermore, international tourists will be provided with much interesting information about Vietnam in terms of politics, culture, society, tourist attractions, cuisine, people, etc. It may be useful information for those who want to visit Vietnam. Besides, many big offers are available to support passengers.
For more information about flights of Vietnam Airlines, please visit the website VietnamAirlinesTickets.com.