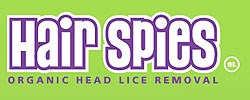 Burlingame, CA (PRWEB) November 29, 2013
No matter how silly or messy it may be, people will try almost anything to get rid of head lice. Head lice is a real nuisance, and most people who have experienced it can relate to the mindset of being open to getting rid of it by any means possible. Hair Spies, San Mateo's only head lice removal salon, wants to dispel the lice removal myth that head lice can be killed by smothering it with mayonnaise or olive oil. The fact: mayonnaise and olive oil are not deadly to head lice. In fact, Hair Spies reported clients have come in with so much oil in their hair that the oil itself had become a nuisance. Some parents have said that they had to resort to using dish detergent on their child's hair to wash all the oil out.
Attempting to use mayonnaise or olive oil, or any other agent to get rid of the lice by smothering, is ineffective and will prolong any head lice experience, giving that colony even more time to reproduce in hair. To truly end an experience with head lice, it is necessary to physically remove all of the lice and nits. This is a tough, tedious job. The best tool for effective head lice removal is a good, metal head lice comb. Applying mayonnaise or olive oil to the child's hair may help by making it easier to comb through the hair. In fact, a conditioner that will get the fine tines of the lice comb through the child's hair painlessly is the second best tool in the process. Hair Spies, Inc. recommends organic conditioners with rosemary, tea tree oil, or other herbal additives that repel lice. However, while these products make hair less attractive to head lice, like the oils, they are not toxic to head lice.
In addition to a good comb and a good conditioner, Hair Spies also recommends that treatments are timed to correspond with the life cycle of the bug. This will allow parents to be certain that they have truly removed everything. Hair Spies offers complete treatment at their salon, and free telephone consultations for people who want to treat at home.
For more information on Hair Spies and how they can help keep kids and families lice free this winter, visit their website, http://www.hairspies.com/.
About the Company:
Hair Spies is the only head lice removal salon in San Mateo. They offer the safest options in natural lice treatments for head lice using organic, non-toxic products. A visit to Hair Spies allows clients to relax in the comfort of a private lice removal salon with , trained staff. They strive to keep an open, friendly atmosphere by keeping children entertained with toys, books and DVDs while parents can check their e-mail during their child's treatment using the free Wi-Fi service. Any questions about getting rid of lice – from their natural lice treatment process to their organic lice removal products – will be answered by the very knowledgeable staff. Call (650)340-9000 to make an appointment.