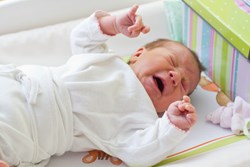 Babies can be extra fussy over the holiday season. Parents can help them settle back to sleep.
Amarillo, Texas (PRWEB) November 30, 2013
"My baby is only happy in my arms. The minute I put her down she cries."
The Holiday Season can be particularly challenging for parents of infants. When exposed to travel, strange people, sounds, and smells, babies can be fussy and difficult to settle. Exhausted new parents often wonder what to do. In the Science of Mother-Infant Sleep, a new book from Praeclarus Press, a committee of prominent experts in mother-baby sleep offer specific strategies for exhausted parents and overstressed babies.
Although having a baby who is "sleeping through the night" is something most parents aspire to, the reality is that most babies wake frequently up to 12 months of age. This is especially true when there are changes in the baby's routine, such as during the holidays. Babies have immature nervous systems and need others to help them regulate their emotions. When adults hear babies crying and respond, babies develop the tools, both physiologically and emotionally, to calm themselves. Leaving babies to cry increases babies' stress levels and often keeps them awake longer. It does not guide them emotionally or physically toward the goal of regulating their own distress and response.
In the chapter, Simple Ways to Calm a Crying Baby, the authors suggest that parents learn to think about sleep differently when it comes to young babies. Waking is a normal part of an infant's night that depends on many things, including how they are being fed. Breastfeeding infants usually wake more frequently than those who are mixed or formula feeding . Waking isn't a problem just because it is happening. In fact, night waking may actually protect babies from SIDS.
The Science of Mother-Infant Sleep describes specific strategies to calm an upset baby, such as recreating the movement the baby experienced in the womb, relying on touch and skin-to-skin contact, recreating familiar sounds, and breastfeeding. Keeping babies nearby when sleeping is also helpful. Finally, parents are urged to listen their babies and trust their instincts. Parents are ultimately the best experts in caring for their babies.
The Science of Mother-Infant Sleep is a tool every new parent should have. Parents will learn that even normal babies to wake at night, and that is especially true if they are in a strange environment. Night waking does not mean that the parents, or their babies, are doing something wrong. Parents will also learn that there are things they can do to help everyone in their household get a good night's sleep.
The Science of Mother-Infant Sleep is available at Praeclarus Press.com. Praeclarus Press is a small press dedicated to women's health located in Amarillo, Texas. It was founded by health psychologist Kathleen Kendall-Tackett.