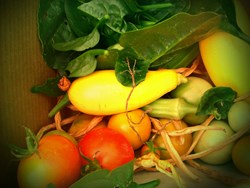 Play Farmville in real life. It's good for you. It's good for your children. Grow Something *real* this season.
College Park, Maryland (PRWEB) December 31, 2013
The Green Scouts are officially declaring 2014 to be the "Year of the Tomatoes".
Started in 2010, the Green Scouts work with children and their parents and help them learn firsthand what goes into creating, cultivating and growing vegetables. By getting to know the earth and nurturing sustainable development, the Green Scouts help children grow up with the necessary skills to become effective "Stewards of the Earth".
For busy parents and their busier children, Green Scouts provide helpful step-by-step tips ("You can pick up a plastic shovel from the local thrift store for a dollar"), inspiration from real life stories of kids making a difference and above all a true appreciation of the rhythms and patterns of tending an organic, sustainable garden.
Now in its fourth year, the Green Scouts is doing a social experiment featuring the gardener's staple – the tomato. Green Scouts has kicked off a social experiment with organic tomato growers. "See, parents and their little ones all over the country are growing things. We want to measure the wholesome effect of this collective effort," says Green Scouts.
Joining Green Scouts is easy. Just go and befriend them in Facebook. If you want to really grow Tomatoes next season, it's the perfect time to join. Green Scouts will provide step-by-step instructions throughout the season, starting from getting and sowing the seeds all the way up to preserving tomatoes as homemade ketchups. Guaranteeing that the tomato you grow will be the best tomato you ever tasted, the Green Scouts are encouraging children and their parents from all over to take on the challenge: this season, grow your own tomatoes, make your own ketchup and eat them too … no factories, corn syrup or middlemen needed.
With sunlight and a little space and a whole lot of heart, the Green Scouts are helping children and their parents grow closer to nature and to each other.
About Green Scouts
Green Scouts is a new non-profit to introduce and promote sustainable, organic gardening and homesteading to children of all ages and their parents.