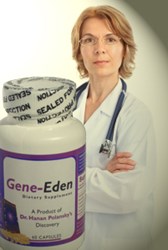 We recommend Gene-Eden-VIR, a clinically proven HPV remedy with no reported side effects. – Mike Evans, polyDNA
Rochester, NY (PRWEB) December 06, 2013
A study published in the Journal of Adolescent Health found a correlation between media coverage and the number of side effects reported on Gardasil (1). As the Center for Advancing Health reports, "The number of adverse events associated with the HPV vaccine reported to the Centers for Disease Control and Prevention (CDC) and the Food and Drug Administration (FDA) appeared to be related to media coverage and online controversy about the vaccine (1)."
The study compared the number of people reporting side effects for the HPV vaccine, Gardasil, and Menactra, a vaccine to prevent meningitis. "The authors compared the amount of print media coverage that the two vaccines received during two and a half years following their FDA approval. The researchers also examined the association between adverse effects reported for each of the two vaccines and the amount of online search activity related to them (1)." They found a high correlation.
The researchers discovered that many more side effects were reported in connection to Gardasil than to Menactra. "During that time frame, the vaccine adverse event reporting system (VAERS) maintained by the CDC and FDA received a monthly average of 159 adverse reports for Gardasil versus 19 for Menactra. Print media coverage was much heavier for Gardasil, spiking in month nine with 147 media reports. During the preceding 8 months, there was no significant difference in adverse event reports for Gardasil and Menactra (1)." This means that more reports in the media regarding Gardasil translated into more people reporting side effects. It is interesting that the study does not speculate on the reason for this relationship.
"It is possible that the media is driving the increase in people complaining. However, it is also possible that at the same time there was an increase in the number of people who were vaccinated. In other words, another possible explanation is more media driving more vaccinations, which results in more side effects. We don't know. However, we recommend Gene-Eden-VIR, a clinically proven HPV remedy with no reported side effects." – Mike Evans, polyDNA
A study published on August 12, 2013 in the peer reviewed, medical journal Pharmacology & Pharmacy, in a special edition on Advances in Antiviral Drugs, showed that Gene-Eden-VIR reduced HPV symptoms. Study authors wrote that, "Individuals infected with the HPV…reported a safe decrease in their symptoms following treatment with Gene-Eden-VIR (2)." The study authors also wrote that, "We observed a statistically significant decrease in the severity, duration, and frequency of symptoms (2)."
To learn more about Gene-Eden-VIR, and HPV visit http://www.gene-eden-kill-virus.com. All orders of Gene-Eden-VIR are completely confidential, and no information is shared or sold to any third party. Privacy is assured.
References:
(1) Media Coverage of HPV Vaccine Boosts Reports of Adverse Effects. Published on November 19, 2013.
http://www.cfah.org/hbns/2013/media-coverage-of-hpv-vaccine-boosts-reports-of-adverse-effects#.Up7y9NIW393
(2) Gene-Eden-VIR Is Antiviral: Results of a Post Marketing
Clinical Study. Published on August 12, 2013.
http://gene-eden-kill-virus.com/PP_Gene-Eden-VIR-is-Antiviral.pdf
polyDNA is a biotechnology company that develops dietary supplements using the unique scientific method developed by Dr. Hanan Polansky, which is based on Computer Intuition.
In addition to his unique scientific method, Dr. Polansky published the highly acclaimed scientific discovery, called Microcompetition with Foreign DNA. The discovery explains how foreign DNA fragments, and specifically, DNA of latent viruses, cause most major diseases.
polyDNA developed Gene-Eden-VIR, an antiviral natural remedy that helps the immune system kill latent viruses.